Published on the 19th July 2015 by ANSTO Staff
A $520 million commitment from the Federal Government, announced today, secures ten years of innovation, and partnerships that will make a positive difference for industry and people's lives.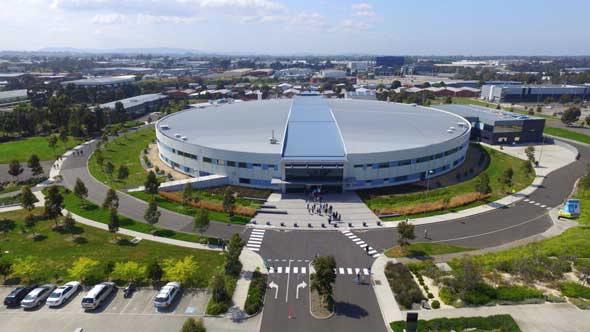 The Australian Synchrotron already enables research into better farming techniques, better health outcomes for cancer patients, and better mining methods, but its funding future has been uncertain.   
That uncertainty ended today, with the Federal Government announcing and establishing an unprecedented, predictable ten-year funding path for the Australian Synchrotron.
The Synchrotron uses accelerator technology to produce a powerful source of light a million times brighter than the sun – and drives innovation for industry through science.
Dr Adi Paterson, CEO of the Australian Nuclear Science and Technology Organisation (ANSTO), which operates the facility, welcomed the outstanding commitment that will help science find solutions.
"Long-term funding secures this world-class facility, and will allow it to reach its absolute potential in terms of capability," said Dr Paterson.
"The Synchrotron will be able to thrive and deliver more outcomes for Australia in areas as diverse as health, agriculture and mining, assisting industry to solve complex problems."
Professor Andrew Peele, Director of the Synchrotron, said that long-term security will have dual benefits for the facility, the only one of its kind in Australia.
"For many years now, securing ongoing funding has been a priority focus, and has held us back from being able to put long-term plans in place," said Professor Peele. 
"Operational funding on this scale gives us the room we need to grow, to seek new partnerships, and to expand our beamline infrastructure to increase both the capacity and capability of the Synchrotron.
"This will make the Synchrotron not only a formidable science facility, but a true research hub," he said.
The long-term operation and ownership of the Synchrotron will be transferred to the Federal Government through ANSTO, which is fitting given its experience operating large-scale infrastructure such as OPAL.
"The Government's support for the Australian Synchrotron recognises the facility's importance and potential for industry," said Dr Paterson. 
"ANSTO is custodian of some of Australia's most significant science infrastructure, and this is a huge vote of confidence in us, our record, and our capacity for delivering science outcomes for this country." 
ANSTO also strongly welcomed the Prime Minister's announcement of $1.5 billion in funding for the National Collaborative Research Infrastructure Strategy (NCRIS). 
NCRIS supports 27 facilities around Australia, including ANSTO's Centre for Accelerator Science, National Deuteration Facility, Camperdown Cyclotron, and the DINGO, BILBY and EMU neutron beam instruments.
Media contact: Phil McCall 0438 619 987