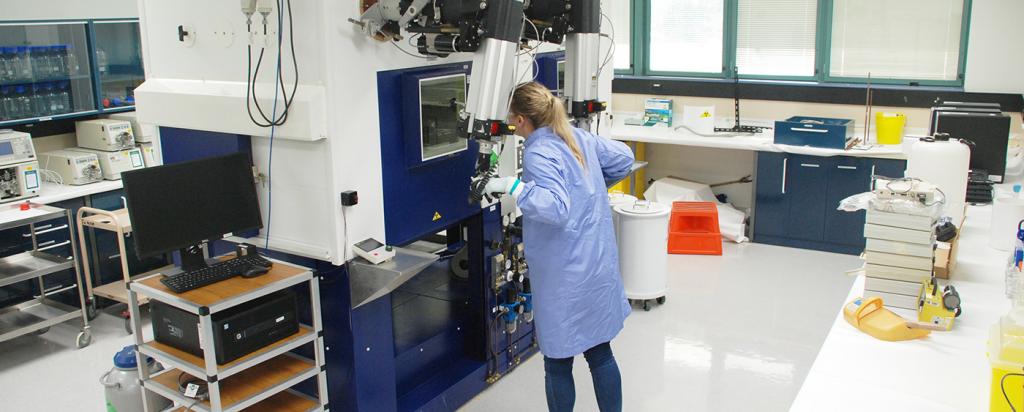 Biosciences
National Research Cyclotron Facility
OPAL multipurpose reactor
Radioisotope research and development activity explores new, non-established 'boutique' radioisotopes, with a particular emphasis on positron, gamma and beta/gamma emitters. Their application is aimed at medically relevant materials for the next generation of diagnostic and therapeutic radiopharmaceuticals and medical devices.
A secondary focus is on the production of tracers for environmental research and for industrial processes, using the OPAL multipurpose reactor for custom neutron irradiations.
Capability selections

Radioisotope handling and separations

Radioisotope analysis

Isotope target processing
The team has had success in providing research quantities of the therapeutic radionuclide scandium-47 and is now working to leverage ANSTO's experience in irradiation, handling, characterisation and formulation of radioisotopes to make available terbium-161 and mercury-203.
The processing facilities include eight PET-rated hot cells (four with manipulators), as well as numerous shielded fume-cupboards, which provide ample and safe work areas in connected radiation-rated laboratories for staff and visiting scientists.
As well as a suite of chemistry and radiochemistry analytical equipment, the team has knowledge and experience in the creation of custom fluidic and target processing modules. These modules can be tailored for the various targets and the separations/purifications required for isolating the product radioisotopes.