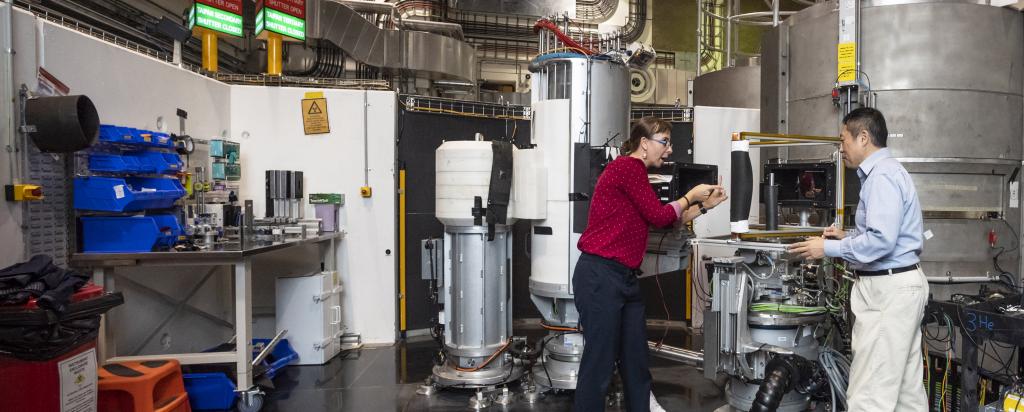 ANSTO aims to attract highly-skilled individuals who work collaboratively, with professionalism and integrity. More than 1,200 people are currently employed with one-third involved in scientific research across areas such as materials, health, climate science, mining and engineering.
ANSTO has provided employment to the Illawarra, Sutherland Shire and greater Sydney for decades and offers a diverse range of career opportunities, from science to engineering and business development. Staff are supported with development opportunities crafted over many years.
Careers in science
Almost every scientific discipline is represented within ANSTO, and scientists are supported with leading- edge facilities and instruments. They are encouraged to collaborate with their peers, gaining skills and knowledge transferable to an array of scientific areas. Those choosing to specialise in nuclear science may choose to work in one of our Research Institutes.
Enabling ANSTO research
A large workforce is needed to support ANSTO's research, maintain the scientific infrastructure and build relationships with partners and collaborators. ANSTO also employs a wide range of engineers, technical assistants, education officers, communications specialists, human resources experts, government liaison staff, business development experts, accountants, IT specialists, maintenance workers, administrative staff and store managers.
Social Club
ANSTO offers employees to join a Social Club for a small membership fee. As part of this club social activities include sports competitions, charity events and hosting a children's Christmas party. Members can also join lunchtime and post work sporting activities such as touch football, yoga, bush walking and cycling. 
Social Club members are also entitled to benefits such as discounted movie and theatre tickets.
Health and Wellbeing
ANSTO is committed to the health and wellbeing of its staff through regular onsite employee health and wellbeing programs, including annual men's and women's health screening programs, health expos and wellbeing programs such as Weight Watchers. The campus also offers a number of opportunities for sport and exercise.
Work life balance
ANSTO offers an attractive range of employment conditions and support to employees at different stages of their careers including: 
Flexible working arrangements
Salary sacrifice/salary packaging benefits
Competitive salaries
Good working conditions
Generous superannuation 
Leave provisions
ANSTO offers an extensive range of leave provisions to help employees balance work and personal commitments. If you are employed under the Enterprise Bargaining Agreement, these include:
Four weeks paid recreation leave each year
Long service leave after 10 years of continuous service
Sixteen weeks paid maternity leave and an addition up to 36-weeks without pay
Three weeks general leave (per year) to cover situations such as illness, carer's leave, personal emergency leave, cultural leave and funeral leave.