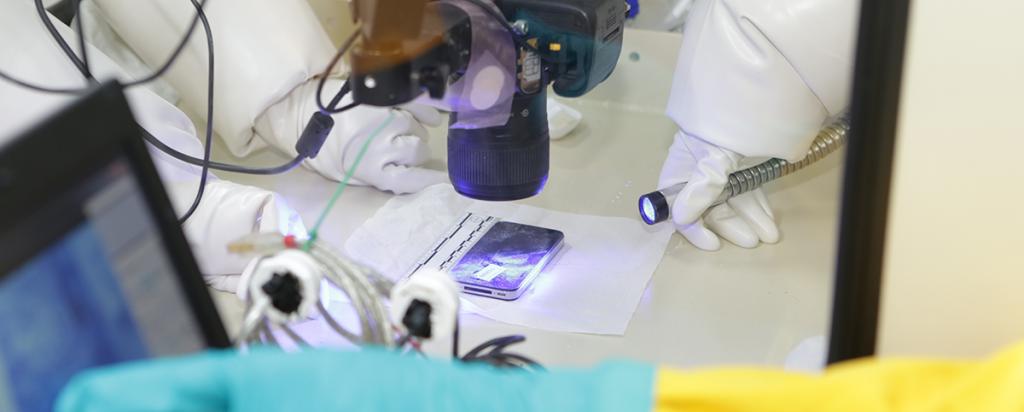 Drawing upon the unique combination of ANSTO's broad range of analytical capabilities and nuclear fuel cycle knowledge, as well as extensive operational experience ANSTO provides, in partnership with law enforcement, a national nuclear forensic capability for Australia.  
Forensic analysis of nuclear and other radioactive material

Analysis of nuclear or other radioactive material can provide information which may be useful to an investigation, such as what the material is and what its intended use may have been.  ANSTO's nuclear forensic scientists work to develop and implement an analytical plan specific to the material and the investigative questions, providing reporting and other outputs, in a range of formats as requested by the clients, which can be of use to law enforcement, regulators and the judicial system.  This function is supported by operationally driven capability development in collaboration with stakeholders and partners.   
Examination of forensic evidence contaminated with radionuclides

If evidence such as fingerprints, DNA and digital devices are contaminated with radionuclides they may not be able to be taken to a normal forensic laboratory for examination due to the unique hazards involved.  ANSTO provides specialised facilities and support to enable forensic experts to perform examinations of evidence contaminated with radionuclides.
Bespoke advisory and training services

ANSTO works with domestic agencies, international partner nations (particularly in South-East Asia) and multilateral organisations such as the International Atomic Energy Agency to deliver tailored and fit-for-purpose training and other advisory services.  Topics include radiation awareness for investigators and crime scene personnel, radiological crime scene examination and laboratory-based nuclear forensic analysis.  Classroom training is integrated with table-top and practical exercises to provide a rich learning experience for participants.