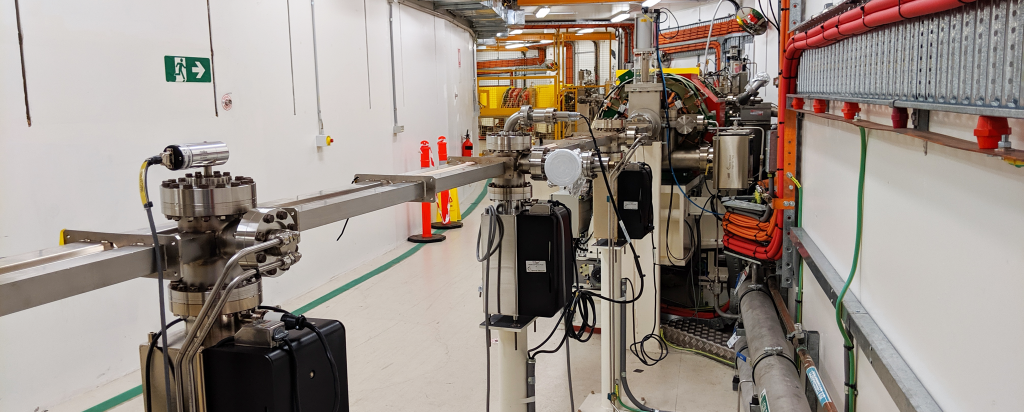 The Advanced Diffraction and Scattering beamlines (ADS-1 and ADS-2) will provide high-energy X-ray diffraction and imaging capabilities for a range of scientific applications in materials science, engineering and mineralogy. 
In comparison to X-rays with lower energies, high-energy X-rays (≥ 50 keV) penetrate more deeply into matter, and are absorbed more weakly and scattered at smaller angles by the sample. This makes them particularly suited to the study of:
Samples inside complex sample environments for in situ or operando studies

Samples containing heavy elements where strong X-ray absorption is problematic

Internal features of bulky samples, such as defects and strain
ADS-1 and ADS-2 will offer highly flexible experiment configurations and sample environments to enable a wide variety of materials characterisation experiments using high-energy monochromatic and polychromatic X-rays. The optics layout will maximise the flux at the sample position while offering variable beam sizes and focussing. 
See below for latest updates and the planned timeline for the construction of ADS.
Techniques
The capabilities of the ADS beamlines will include:
Monochromatic beam experiments
Rapid

in situ powder diffraction measurements using a range of sample environments (high/low temperature, high pressure, gas flow, etc.) with the benefits of increased sample penetration and high momentum transfer

Total scattering measurements (PDF) for samples with short-range ordering

Single-crystal diffraction experiments on large and/or strongly absorbing crystals, or crystals in complex sample environments with limited angular access for the beam (e.g. diamond anvil cells, furnaces)

Rapid texture analysis and 2D materials mapping

Imaging and tomography
White/pink beam experiments (ADS-1 only)
Energy-dispersive diffraction and high-resolution 3D strain scanning

Imaging and tomography

Laue diffraction
Endstations
The ADS high-energy X-ray beam will be generated using a powerful 4.5 T superconducting multi-pole wiggler source. This beam will be split using a side-bounce monochromator to serve two independent beamline endstations, ADS-1 and ADS-2.
ADS-1 will offer white, pink and monochromatic X-ray diffraction and imaging capabilities with a monochromatic energy range of 50 – 150 keV. A multipurpose array of detectors with a highly flexible positioning system (sample–detector distances of 0.3 – 4 m) will facilitate a wide range of experiments, including those combining multiple data types (e.g. diffraction and imaging). The ADS-1 sample stage assembly will support loads of up to 300 kg and offer fast rotation speeds suitable for tomography. Larger user-supplied equipment can also be accommodated. A range of flux, band-pass and beam size options will be available depending upon energy and optical configuration. 
ADS-2 will be capable of monochromatic diffraction experiments at three fixed X-ray energies (45, 74 or 87 keV). It will be suited to techniques such as powder diffraction, single crystal diffraction, total scattering (Pair-Distribution Function analysis) and high-throughput applications with a range of standard sample environments. The ADS-2 sample stage assembly will accommodate samples and environments of up to 100 kg.
Both beamlines will have controlled hutch environments, multiple standard sample environments spanning a wide temperature range, gases available for experiments, and a fume extraction system.
For further information, see ADS Technical Specifications.
Scientific Applications
The ADS beamlines will be well suited for in situ bulk structure characterisation as well as for spatial mapping of samples such as metals, ceramics, minerals and composites.  In situ capabilities and rapid data collection regimes will also enable time-critical kinetics studies on the second and millisecond timescales for processing and aging experiments.
Materials Science

Structural studies of strongly-absorbing inorganic materials

Characterisation of structure-function relationships in component materials of energy storage, production and conversion systems – batteries, fuel cells, thermoelectric materials, etc.

In situ structural studies of stimulus-responsive materials, sorbents, catalysts, etc.

Studies of local atomic structure variations using total scattering analysis or single-crystal diffuse scattering

Combined diffraction and imaging mapping of in situ materials processing experiments
Engineering and Manufacturing

Non-destructive characterisation of fractures, textures, strains and deformations in large manufactured objects across the energy, automotive, transport, defence and aerospace sectors

Studies of crack propagation in both small and large components around heat-affected areas such as welds

In situ

studies of cyclic mechanical tension/compression for understanding failure mechanisms relating to fatigue in engineering infrastructure, e.g. materials produced by additive manufacturing
Earth Science

Studies of mineral formation and recovery under extreme conditions of temperature and pressure 

Combined diffraction and imaging mapping of minerals
Technical Information
Beamline Layout
 Technical Specifications
Source

| | | |
| --- | --- | --- |
| Source | Type | Superconducting multi-pole wiggler |
|   | Field | 4.5 T |
|   | Period | 4.8 cm |
|   | Pole pairs | 40 |
|   | K | 20.2 |
|   | Critical energy (Ec) | 27.5 keV |
|   | Total power | 45.2 kW |
ADS-1

Beam
Energy

Monochromatic: 50–150 keV (tunable)

White/pink beam also available

 
Bandwidth

(ΔE/E)

10-2 – 10-4 (tunable)
 

Spot size at sample (H x V)

18 mm x 18 mm (max)

20 μm x 5 μm (min)

 
Flux
TBC (spot size dependent)

Optical components

Mask (H x V)

0.3 mrad x 0.3 mrad

 

High-pass filter

SiC: 2.0 mm

 

Transfocator (horizontal focussing/collimating)

Incident aperture (H x V): 2 x 1 mm

Lens cassettes: Be (1,2,4,8,16,32); Al (32,64)

 

Attenuation filters

Various (3 sliding paddles; 4 positions per paddle)

 

Double crystal Laue monochromator

Si<111> crystal pair with χ = -35°

Bend radius: 8 m – 40 km 

Endstation

Sample positioning stages

Standard: ≤300 kg load

Tomography: ≤50 kg load, ≤10 Hz rotation

Single crystal: ≤2 kg load, 2-circle (fixed kappa)

 
Detectors

Monochromatic diffraction (area detector) x2

Energy-dispersive diffraction

Imaging
ADS-2

Beam

Energy

Monochromatic: 45.3, 74.0 or 86.8 keV (fixed)

 

 
Bandwidth

(ΔE/E)

~3 x 10-3
 

Spot size at sample (H x V)

4 mm x 1 mm (max)

10 μm x 10 μm (min)

 
Flux
TBC (spot size dependent)
Optical components
Side-bounce monochromator

Si <111>, <220>, <311>

Take-off angle: 5°

 
Vertical focussing mirror

3 stripe multi-layer mirror with variable focus via mechanical benders

 
Endstation
Sample positioning stage

Standard: ≤100 kg load

Single crystal: ≤2 kg load, 2-circle (fixed kappa)

 
Detector

Monochromatic diffraction (area detector)

 
Beamline construction timeline
Current status: The hutch and optics procurement phases are complete and endstation design is underway.
| Date | Milestone |
| --- | --- |
| 2018 July | Project started |
| 2019 April | Investment Case approved and endorsed by ANSTO |
| 2019 May | Conceptual Design Report completed |
| 2020 January | Superconducting multi-pole wiggler (SCMPW) insertion device contract awarded to Budker Institute of Nuclear Physics |
| 2020 September | Beamline hutch contract awarded to Innospec Prüfsystem GmbH |
| 2020 November | Beamline optics contract awarded to Axilon AG |
| 2020 December | Front end (storage ring interface) contract awarded to FMB Berlin (FMB Feinwerk- und Messtechnik GmbH) |
| 2021 August | ADS-1 robotic detector positioning gantry system contract awarded to CNC Design Pty Ltd |
| 2021 September | External building works begin |
| 2021 Q4 | Design for main endstation components completed |
| 2021 Q4 | Internal hutches installed |
| 2022 January | Front end delivered and installed |
| 2022 Q1 | External hutches installed |
| 2022 Q2 | External building works completed |
| 2022 Q2 | ADS-1 detector positioning gantry system installed |
| 2022 Q3 | SCMPW delivered and installed |
| 2022 Q4 | Beamline optical system delivered and installed |
| 2023 Q2 | Hot commissioning commences, includes expert users |
| 2023 Q3 | First user experiments; beamlines fully commissioned over the next 12 months |
Latest updates
28/05/2021 – ADS-2 Technical floor slab extension poured. This section of the slab will support the ADS-2 endstation hutch.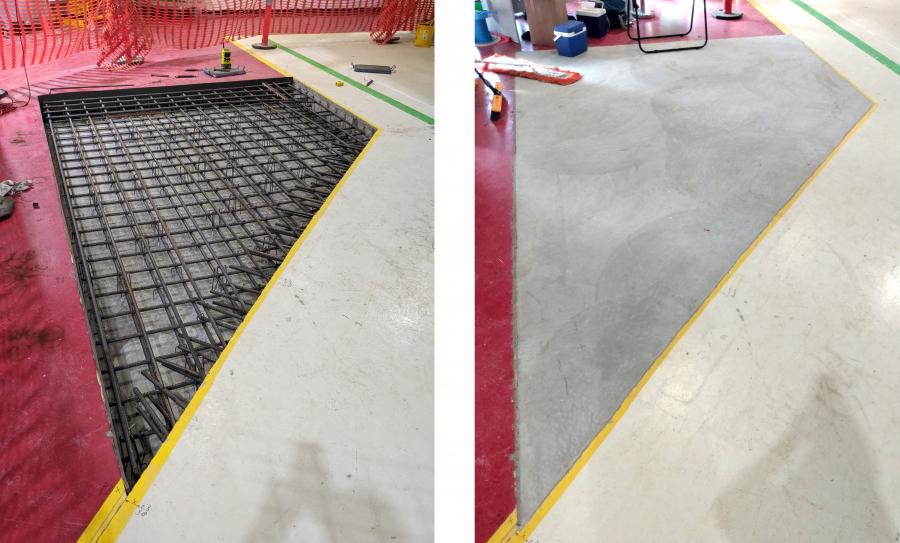 06/05/2021 – Coring complete for the ADS beam pipe hole in the storage ring wall. An exciting milestone for the team as it represents the first piece of tangible work on the beamline construction project!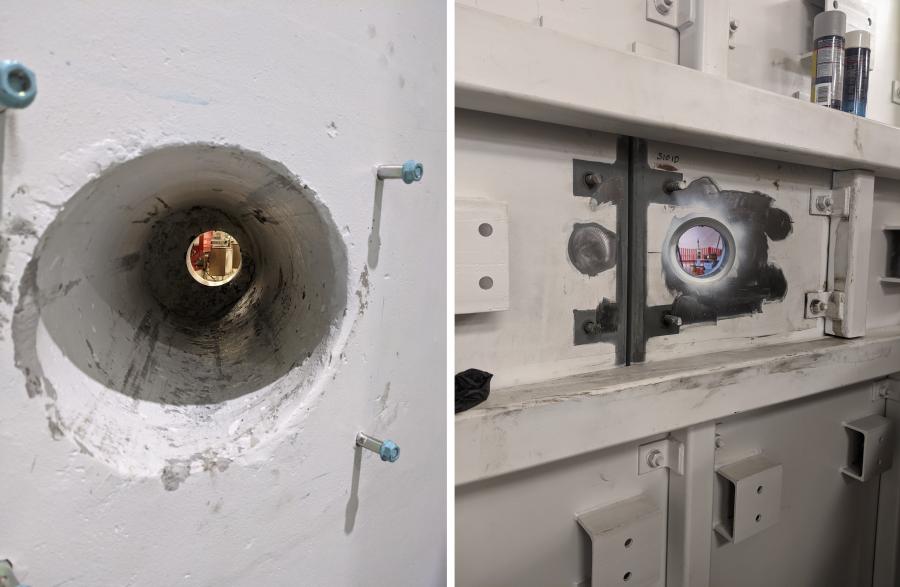 Staff
Mr Gonzalo Conesa-Zamora - Project Manager
Dr Justin Kimpton – Lead Scientist
Dr Renata Lippi – Beamline Scientist
Dr Josie Auckett – Beamline Scientist
Mr Ben McMahon – Lead Engineer
Mr Ross Hogan – Controls Engineer
Mr Matt Fenwick – PLC Safety Engineer
Beamline Advisory Panel
A/Prof. John Daniels (Chair) – University of NSW
Prof. Tracy Rushmer - Macquarie University
Dr Peter Lynch – Deakin University
Dr Nicholas Armstrong - Defence Science and Technology Group
Prof. Karena Chapman – Stony Brook University, USA
Dr Veijo Honkimäki – European Synchrotron Radiation Facility, France
Dr Neeraj Sharma – University of New South Wales
Prof. Michael Preuss – Monash University
Contact