The Advanced Diffraction and Scattering beamlines (ADS-1 and ADS-2) will provide high-energy X-ray diffraction and imaging capabilities for a range of scientific applications in materials science, engineering and mineralogy. The ADS beamlines are currently under construction and will be accepting user proposals in 2024.
Beamline Updates

 

03/11/2023 – The big focus for ADS throughout October was the main installation of the PDS. Three engineers from Axilon visited to assist ANSTO's staff and contractors with the mechanical setup, alignment surveying, electrical connections and basic motion tests. Many sections of the PDS are now sealed under vacuum, but some further work, such as final surveying of the two monochromators, is still to be completed.

---

16/10/2023 – The ADS-1 imaging microscope detector was assembled and passed its first benchtop tests (without X-rays).

---

12/09/2023 – Recent visitors to the Synchrotron might be wondering: what's inside the big blue box? The ADS photon delivery system – 20 tonnes' worth of shutters, filters, slits, monochromators and focusing optics, plus vacuum hardware and many other accessories – has arrived onsite after its long sea voyage from Germany. Installing all this equipment in the 1A and 1B hutches will take most of October, so stay tuned for further updates on the progress of the PDS.

---

26/08/2023 – Site acceptance testing of our Eiger2 and Pilatus3 detectors was completed with onsite support from Dectris. The detectors passed all their basic tests, and are now ready for integration into the beamline control and data processing pipelines.

---

11/08/2023 – Engineers from Square One visited the Synchrotron to help install and test the main ADS-1 sample positioning table in hutch 1C. The modular design of this multi-axis system allows small samples on the upper (tomography) stage to be rotated at speeds of up to 600 rpm during data collection, while loads of ≤300 kg can be accommodated on the lower platform when the tomography stage is removed.

 

Older updates (2023)

 

10/08/2023 – Bilfinger Noell GmbH has been contracted to design and deliver a superconducting multipole wiggler (SCMPW) for the ADS beamlines. The SCMPW will enable ADS to achieve maximum targeted flux over the beamlines' full energy range (45–150 keV). The SCMPW will replace the interim permanent-magnet ADS wiggler in 2025.

---

02/08/2023 – The ADS Science team had fun unpacking two very large shipping boxes containing our Eiger2 and Pilatus3 detectors, newly arrived from Switzerland. Everyone was relieved to see these expensive and delicate instruments safely bolted down on the test bench and flushed with dry gas to keep their internals free from moisture in preparation for power-up and initial testing. The Eiger2 and Pilatus3 will eventually serve as "workhorse" detectors for monochromatic diffraction experiments in ADS-1 and ADS-2, respectively.

---

17/07/2023 – Construction of the ADS photon delivery system (PDS) has officially kicked off with installation of the transfer tube connecting our internal and external hutches. The 22.6-metre pipe will be pumped down and baked for up to a week to ensure the best possible vacuum before the lead shielding covers are reinstalled. The rest of the PDS hardware is due to arrive in September.

---

09/06/2023 – The 1C hutch is now home to our largest moving device: An 8-metre gantry system that will be capable of positioning the four ADS-1 detectors almost anywhere in the hutch. The gantry was assembled in place and surveyed for straightness before electrical wiring works commenced. Motion testing and calibration are scheduled for next month.

---

08/06/2023 – The first test of an ADS detector with X-rays took place at the Imaging and Medical Beamline (IMBL). Happily, the test confirmed that our HS3131 flat panel detector is functioning and ready for more detailed calibration.

---

12/05/2023 – Personnel Safety System (PSS) hardware for the ADS beamlines has arrived onsite. We might be the only beamline project at the Synchrotron that can fill a lab with E-stops and search points.

---

21/04/2023 – Members of the ADS team spent almost two weeks at Axilon's facilities in Cologne, Germany, witnessing factory tests on our beamline optics system. The visit was a great opportunity for both ANSTO and Axilon to identify any remaining issues before the system is shipped to Melbourne. Seeing our critical beamline hardware assembled and working was an exciting moment for the team – ADS is now another step closer to reality!

---

24/03/2023 – Staff and users of beamlines adjacent to ADS are now benefiting from increased physical exercise thanks to the installation of shielding and supports for the ADS-1 beam transfer tube, and a new staircase providing access over it. (You're welcome!) This is the final piece of external shielding for the beamlines and marks the end of the ADS hutch construction project.

---

01/03/2023 – An exciting milestone was achieved with the Occupancy Permit being issued for the ADS-1 extension building. We're very pleased with our new space and looking forward to filling up the interior with all the accoutrements of a cosy user cabin.

---

08/02/2023 –The interim ADS wiggler was lifted by crane over the storage ring and into the crescent. Much careful planning and preparation went into the operation, which went without a hitch and provided an entertaining morning for spectators from around the Synchrotron. Well done to the engineering and mechanical tech teams for a safe and successful lift!  

---

07/02/2023 – LAB Motion Systems has been contracted to design and supply a motorised goniometer for single-crystal diffraction experiments on ADS-1 and ADS-2. The goniometer allows continuous 360° rotation about two axes (omega and phi, fixed 50° apart) and will support sample environments of up to 2 kg for in situ data collection.

---

18/01/23 – CNC Design Pty Ltd have been contracted to develop and install the safe motion control system for the ADS-2 sample and detector platforms. The detailed design of the ADS-2 endstation is nearly complete and many hardware components have been ordered.

Older updates (2022)

 

28/12/2022 – What gift do you get for the beamline that has everything? ADS received an exciting (and enormous) package for Christmas: our interim wiggler from PSI in Switzerland. The 11.5-ton device will be relocated to the storage ring early in 2023.

---

21/11/2022 – A HS3131 CMOS flat panel detector has been ordered from Spectrum Logic Limited, marking the end of the procurement phase for the ADS detector suite. The HS3131 is designed primarily as a medical X-ray detector but will serve as an auxiliary diffraction detector in ADS-1, handling far-field line profile measurements and some white-beam diffraction experiments.

---

03/11/2022 – The 1B and 1C hutches passed their radiation shielding integrity tests, paving the way for final building works and service installations to resume.

---

25/10/2022 – Brookhaven National Laboratory (USA) has been contracted to supply a 192-element Ge detector for the ADS project. This detector enables ADS-1 to be the first beamline at the Australian Synchrotron to support energy-dispersive x-ray diffraction (ED-XRD) experiments, which can be used for depth-resolved structural studies of bulk samples and in situ functioning devices.

---

22/10/2022 – The ADS-1 detector positioning gantry system has been delivered to site. A major operation was required to move the long Z-axis gantry beams into the 1C hutch, which is only slightly longer than the beams themselves. Thanks to the various teams involved for co-operating to get the job done!

---

08/09/2022 – The Swiss Light Source at Paul Scherrer Institut (PSI) has removed a decommissioned permanent-magnet wiggler from their storage ring and packaged it for transport to Australia. This device will serve as a temporary X-ray source for ADS until a superconducting wiggler can be procured and installed. We're grateful to PSI for supplying this device so that the ADS beamlines can be tested and commissioned in the interim period. More information about the wiggler can be found on PSI's website.

---

23/08/2022 – The ADS-1 imaging detector has been ordered. The device is composed of two parts: a PCO.edge 5.5 scientific grade camera and a custom Optique Peter White-beam triple-objective microscope system. This state-of-the-art detector will enable a range of imaging experiments, including radiography and computed tomography at magnifications of 1X, 2X or 5X, and can also be used in combination with our diffraction detectors to give researchers a "full picture" of their materials.

---

01/08/2022 – Thanks to the team of contractors who have spent months decorating our 1A and 2A hutches with brightly-coloured cables, the installation of electrical services in the internal hutches is nearing completion.

---

25/07/2022 – Construction is underway on the 1B and 1C hutches in the extension building. These hutches will house the downstream optics and endstation of the ADS-1 beamline.

---

30/06/2022 – The ADS team is very pleased to announce that DECTRIS AG has been contracted to supply the primary monochromatic diffraction detectors for both ADS endstations. A state-of-the-art EIGER2 XE CdTe 9M area detector will be installed in ADS-1, while ADS-2 will receive a slightly larger PILATUS3 X CdTe 2M. These "workhorse" detectors will deliver excellent performance and complementary capabilities for a variety of diffraction experiments across the ADS beamlines.  

---

10/06/2022 – After many months of design and review, the last component in the ADS photon delivery system (PDS) was signed off, marking the end of the Final Design Review stage for this major segment of the beamline project. The PDS comprises the entire optical system delivering beam from the front end to the ADS-1 and ADS-2 endstations. Axilon can now start producing the many parts and pieces of the PDS in preparation for delivery to ANSTO in mid-2023.

---

27/05/2022 – The extension building floor has been precision levelled to within 2 mm of its design height and flatness in order to support the ADS-1 optical and endstation hutches.

---

13/05/2022 – The ADS front end is assembled and aligned in the storage ring tunnel. This is the first segment of the beamline to be installed, and an exciting milestone for the project! 

---

09/05/2022 – The rear car park is starting to fill up again with ADS hutch panels… This time it's the first consignment of panels for the external hutches 1B and 1C. Two more shipments are due to arrive in June and July.

---

20/04/2022 – The internal hutches successfully completed two days of radiation shielding integrity testing. They are now ready for contractors to start installing electrical services in the first week of May.

---

11/04/2022 – The front end arrived safely and is scheduled to be installed inside the storage ring tunnel during the May shutdown.

---

29/03/2022 – Heavy construction work for hutches 1A and 2A is finished and all major panels and doors are now in place. Detailing work is continuing to prepare the hutches for the installation of electrical and mechanical services.

---

25/03/2022 – The ADS Front End (storage ring interface) completed factory acceptance testing at FMB Berlin's manufacturing facility, with ANSTO personnel attending virtually to witness some tests. The FE will now be partly disassembled, packed into crates and flown to Australia for site delivery in 2-3 weeks' time.

---

11/03/2022 – Phase 1 of the extension building construction is now complete. One external wall was deliberately left open to allow large hutch panels to be brought through into the main building for installation. The extension building will be completed during construction phase 2, which will start in July after the remaining hutches (1B and 1C) have been installed. 

---

01/03/2022 – After considering various alternatives, the beamline team agreed on a conceptual design for the ADS-2 sample and detector positioning systems. The complementary motorised tables will be designed in-house and offer maximum flexibility for positioning components in the ADS-2 endstation.

---

22/02/2022 – Metrology report received for the for the ADS-2 vertical focusing mirror (VFM) silicon substrate (manufactured by ZEISS). The 1000 x 40 mm reflective surface passed its tests and is now ready to be coated with the multilayer stripes that will enable it to focus the ADS-2 beam in the endstation hutch.

---

 21/02/2022 – The ADS hutches are officially under construction! The "internal" hutches (located inside the main synchrotron building) will be assembled over the next six weeks. Meanwhile, the first shipment of panels for the "external" hutches (in the extension building) has left Germany and is expected to arrive in May.

---

16/02/2022 – The ADS-1 extension building is rapidly taking shape, with the roof due to be completed by next week and external wall cladding to follow.

---

09/02/2022 – The former Extreme Conditions Laboratory has been demolished in preparation for the external wall breakthrough to access the new ADS-1 extension building.

---

21/01/2022 – The ADS-1 sample table reached the Final Design Review milestone. Representatives from Square One attended the FDR meeting in person while visiting Australia from the USA. At the post-meeting lunch, all agreed that this was much more enjoyable than meeting online!

Older Updates (2021)

 

23/12/2021 – Concrete pouring finished for the main technical slab and external access areas - just in time to let them cure over Christmas and New Year.

---

16/12/2021 – First concrete poured on the ADS-1 building extension site.

---

10/12/2021 – The ADS-1 sample table underwent Preliminary Design Review. The table is based on a Tri-Sphere design and incorporates multiple motion axes to align and rotate samples weighing up to 300 kg in the ADS-1 beam.

---

03/12/2021 – Between the summer storms, construction continues...

---

25/11/2021 – The ADS-1 detector positioning gantry system reached the Final Design Review major milestone. The gantry is currently scheduled for installation in late 2022, after the external ADS-1 hutches have been built and provisioned.

---

10/11/2021 – First batch of hutch panels delivered. Having completed their long sea journey from Germany, the panels will be stored onsite until installation in early 2022.

---

27/10/2021 – Excavation has begun on the ADS-1 extension building site! The ADS Science Team will enjoy gallery views from their office windows during construction of the extension building, which will house the ADS-1 beamline endstation and user cabin.

---

14/10/2021 – The robotic detector positioning system for ADS-1 reached the Preliminary Design Review milestone. This Cartesian gantry system has two independent platforms that will enable the beamline's four detectors to be positioned within a large spatial envelope inside the ADS-1 hutch.

---

14/09/2021 – Received word that the first containers of internal hutch panels (for the first optics hutch and ADS-2 endstation) have been dispatched from Innospec's factory in Germany.

---

28/05/2021 – ADS-2 Technical floor slab extension poured. This section of the slab will support the ADS-2 endstation hutch.

---

06/05/2021 – Coring complete for the ADS beam pipe hole in the storage ring wall. An exciting milestone for the team as it represents the first piece of tangible work on the beamline construction project!
To receive email updates on the progress of the ADS beamlines project, please send a request to as-ads@ansto.gov.au. 
Capability Summary and Techniques
In comparison to X-rays with lower energies, high-energy X-rays (≥ 45 keV) penetrate more deeply into matter, and are absorbed more weakly and scattered at smaller angles by the sample. This makes them particularly suited to the study of:
Samples inside complex sample environments for in situ or operando studies

Samples containing heavy elements where strong X-ray absorption is problematic

Internal features of bulky samples, such as defects and strain
ADS-1 and ADS-2 will offer highly flexible experiment configurations and sample environments to enable a wide variety of materials characterisation experiments using high-energy monochromatic and polychromatic X-rays. The optics layout will maximise the flux at the sample position while offering variable beam sizes and focussing. 
The planned timeline for the construction of ADS anticipates user experiments starting in late 2024.
Techniques
The capabilities of the ADS beamlines will include:
Monochromatic beam experiments
Rapid

in situ powder diffraction measurements using a range of sample environments (high/low temperature, high pressure, gas flow, etc.) with the benefits of increased sample penetration and high momentum transfer

Total scattering measurements (PDF) for samples with short-range ordering

Single-crystal diffraction experiments on large and/or strongly absorbing crystals, or crystals in complex sample environments with limited angular access for the beam (e.g. diamond anvil cells, furnaces)

Rapid texture analysis and 2D materials mapping

Imaging and tomography
White/pink beam experiments (ADS-1 only)
Energy-dispersive diffraction and high-resolution 3D strain scanning

Imaging and tomography

Laue diffraction
Endstations
The ADS high-energy X-ray beam will be split using a side-bounce monochromator to serve two independent beamline endstations, ADS-1 and ADS-2.
ADS-1 will offer white, pink and monochromatic X-ray diffraction and imaging capabilities with a monochromatic energy range of 50 – 150 keV. A multipurpose array of detectors with a highly flexible positioning system (sample–detector distances of 0.3 – 4 m) will facilitate a wide range of experiments, including those combining multiple data types (e.g. diffraction and imaging). The ADS-1 sample stage assembly will support loads of up to 300 kg and offer fast rotation speeds suitable for tomography. Larger user-supplied equipment can also be accommodated. A range of flux, band-pass and beam size options will be available depending upon energy and optical configuration. 
ADS-2 will be capable of monochromatic diffraction experiments at three fixed X-ray energies (45, 74 or 87 keV). It will be suited to techniques such as powder diffraction, single crystal diffraction, total scattering (Pair-Distribution Function analysis) and high-throughput applications with a range of standard sample environments. The ADS-2 sample stage assembly will accommodate samples and environments of up to 100 kg.
Both beamlines will have controlled hutch environments, multiple standard sample environments spanning a wide temperature range, gases available for experiments, and a fume extraction system.
For further information, see ADS Technical Specifications.
Scientific Applications
The ADS beamlines will be well suited for in situ bulk structure characterisation as well as for spatial mapping of samples such as metals, ceramics, minerals and composites.  In situ capabilities and rapid data collection regimes will also enable time-critical kinetics studies on the second and millisecond timescales for processing and aging experiments.
Materials Science

Structural studies of strongly-absorbing inorganic materials

Characterisation of structure-function relationships in component materials of energy storage, production and conversion systems – batteries, fuel cells, thermoelectric materials, etc.

In situ structural studies of stimulus-responsive materials, sorbents, catalysts, etc.

Studies of local atomic structure variations using total scattering analysis or single-crystal diffuse scattering

Combined diffraction and imaging mapping of in situ materials processing experiments
Engineering and Manufacturing

Non-destructive characterisation of fractures, textures, strains and deformations in large manufactured objects across the energy, automotive, transport, defence and aerospace sectors

Studies of crack propagation in both small and large components around heat-affected areas such as welds

In situ

studies of cyclic mechanical tension/compression for understanding failure mechanisms relating to fatigue in engineering infrastructure, e.g. materials produced by additive manufacturing
Earth Science

Studies of mineral formation and recovery under extreme conditions of temperature and pressure 

Combined diffraction and imaging mapping of minerals
Technical Information and Specifications
Technical Specifications
Source

| | |
| --- | --- |
| Source | Wiggler (final details TBC) |
ADS-1

Beam

Energy

Monochromatic: 50–150 keV (tunable)

White beam also available

 
Bandwidth

(ΔE/E)

10-2 – 10-4 (tunable)
 

Beam size (FWHM)

Horizontal:

Vertical:
 

 

max. 17 mm

max. 10 mm
min. 80 μm (focusing)

 

Flux

White beam, full size:

 White beam, 1x1 mm:

50 keV (0.1% ΔE/E)
collimated, 1x1 mm:

80 keV (0.1% ΔE/E)
collimated, 1x1 mm:

100 keV (0.1% ΔE/E)
collimated, 1x1 mm:

(predicted by raytrace modelling)

6 x 1016 photons s-1

3 x 1014 photons s-1

3 x 1011 photons s-1

2 x 1011 photons s-1

9 x 1010 photons s-1

 

Optical components

Mask (H x V)

0.3 mrad x 0.3 mrad

 

High-pass filter

SiC: 2.0 mm

 

Transfocator (vertical focussing/collimating)

Incident aperture (H x V): 2 x 1 mm

Lens cassettes: Be (1,2,4,8,16,32); Al (32,64)

 

Attenuation filters

3 sliding paddles with 4 filters per paddle

 

Paddle 1: SiC, 2.0 - 5.0 mm

Paddle 2: Cu,  0.5 - 5.0 mm

Paddle 3: Mo,  0.5 - 2.0 mm

 

Double crystal Laue monochromator

Si<111> crystal pair with χ = -35°

Bend radius: 8 m – 40 km 

Endstation

Sample positioning stages

Standard: ≤300 kg load

Tomography: ≤50 kg load, ≤10 Hz rotation

Single crystal: ≤2 kg load, 2-circle (fixed kappa)

 
Detectors

1. Primary monochromatic diffraction detector: EIGER2 XE CdTe 9M

Technology: Hybrid photon counting
Active area: 233 x 245 mm2
Pixel count: 3108 x 3262 (10.1 megapixels)
Pixel pitch: 75

μm

Max. frame rate: 500 Hz
Max. count rate: 107 photons/s/pixel

2. Auxiliary far-field diffraction detector: Spectrum Logic HS3131

Technology: CMOS
Active area: 310 x 307 mm2
Pixel count: 3095 x 3073 (9.5 megapixels)
Pixel pitch: 100

μm

Max. frame rate: 62 Hz

3. Energy-dispersive diffraction detector: Brookhaven National Laboratory Ge detector

Sensor arrangement: 192-element linear array

Pixel pitch: 250

μm

4. Imaging detector: Optique Peter White Beam triple-objective microscope with PCO.edge 5.5 camera

Pixel count: 2560 x 2160 (5.5 megapixels)
Pixel pitch: 6.5

μm

Max. frame rate: 100 Hz

Objective settings:

Objective

1X
2X
HR5X
Total magnification
1X
1.8X
4.5X
Diagonal FOV (mm)
21.8
12.1
4.8
Objective resolution
limit @550 nm (μm)
9.6
6.1
1.6
ADS-2

Beam

Energy

Monochromatic: 45.3, 74.0 or 86.8 keV (fixed)

 

 
Bandwidth

(ΔE/E)

~3 x 10-3
 

Beam size (FWHM)

Horizontal:

Vertical:
 

 

max. 9 mm

max. 4 mm (diverging)
min. 20 μm (focusing)

 

Flux

45.3 keV, 0.5x0.5 mm:

74.0 keV, 0.5x0.5 mm: 

86.8 keV, 0.5x0.5 mm: 

(predicted by raytrace modelling)

7 x 1012 photons s-1

4 x 1012 photons s-1

7 x 1011 photons s-1

Optical components
Side-bounce monochromator

Si <111>, <220>, <311>

Horizontal take-off angle: 5°

 
Vertical focussing mirror

3 stripe multi-layer mirror with variable focus via mechanical benders

 
Endstation
Sample positioning stage

Standard: ≤100 kg load

Single crystal: ≤2 kg load, 2-circle (fixed kappa)

 
Detector

Primary monochromatic diffraction detector: PILATUS3 X CdTe 2M

Technology: Hybrid photon counting
Active area: 254 x 289 mm2
Pixel count: 1475 x 1679 (2.5 megapixels)
Pixel pitch: 172

μm

Max. frame rate: 250 Hz
Max. count rate: 107 photons/s/pixel
Beamline Layout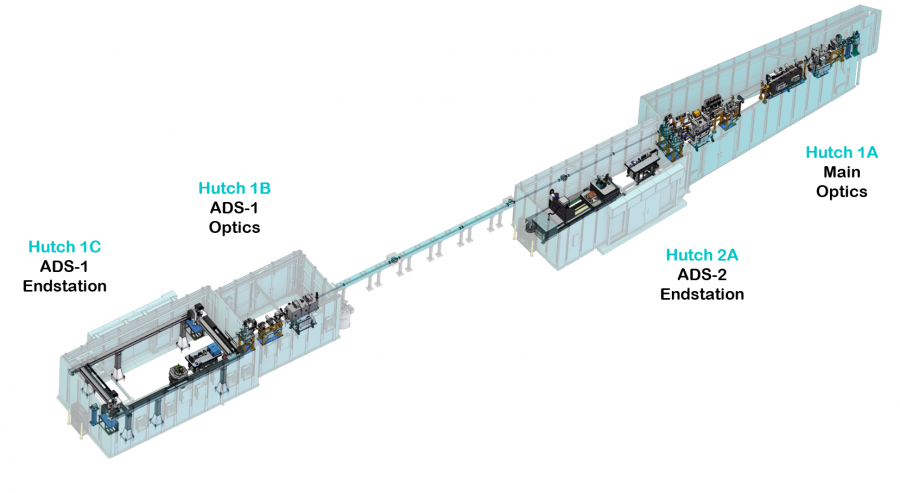 Beamline construction timeline
Current status: Beamline and endstation hardware installations have started. Beamline software and data pipeline developments are underway.
| Date | Milestone |
| --- | --- |
| 2018 July | Project started |
| 2019 April | Investment Case approved and endorsed by ANSTO |
| 2019 May | Conceptual Design Report completed |
| 2020 Q4 | Contracts awarded for supply of the beamline optics system, front end (storage ring interface) and hutches |
| 2021 Q3 | Contracts awarded for supply of ADS-1 major endstation equipment |
| 2021 October | External building works commenced |
| 2022 February | Construction of internal hutches commenced |
| 2022 May | Front end delivered and installed |
| 2022 October | Construction of external hutches completed |
| 2023 February | External building works completed |
| 2023 Q3 | ADS-1 major endstation components installed |
| 2023 August | Superconducting wiggler contract awarded to Bilfinger Noell GmbH |
| 2023 October | Beamline optical system delivered and installed |
| 2023 December | Interim wiggler installed in storage ring |
| 2024 Q1 | ADS-2 major endstation components installed |
| 2024 Q2 | Hot commissioning commences, includes expert users |
| 2024 Q4 | First user experiments; beamlines fully commissioned over the next 12 months |
| 2025 Q3 | Superconducting wiggler installed and commissioned |
Find out more on the Australian Synchrotron User Wiki
View the Wiki
Staff
Mr Gonzalo Conesa-Zamora

- Project Manager

Mr Sina Porsa – Lead Engineer

Mr Ross Hogan – Controls Engineer

Mr Navid Hamedi – PLC Safety Engineer
Beamline Advisory Panel
A/Prof.

John Daniels (Chair) – University of NSW

Prof. Tracy Rushmer - Macquarie University

Dr Peter Lynch – Deakin University

Dr Nicholas Armstrong - Defence Science and Technology Group

Prof. Karena Chapman – Stony Brook University, USA

Dr Veijo Honkimäki – European Synchrotron Radiation Facility, France

Dr

Neeraj Sharma – University of New South Wales

Prof. Michael Preuss

– Monash University
Contact