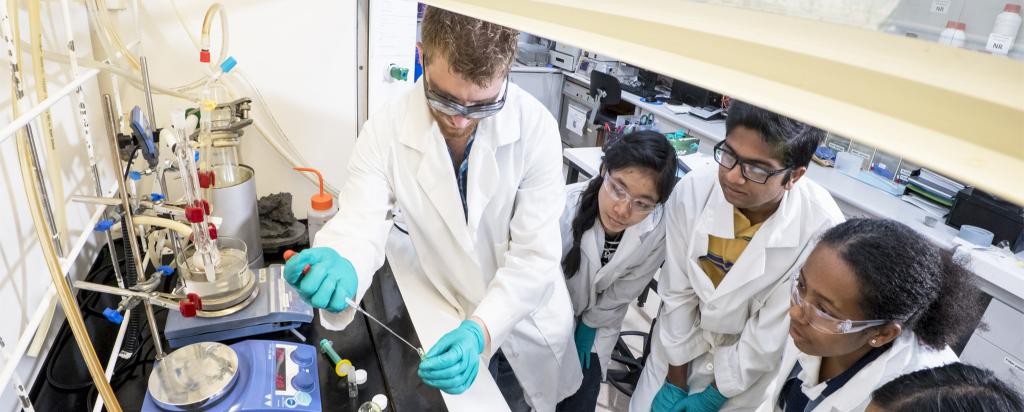 ANSTO Big Ideas encourages students to creatively communicate the work of an Australian scientist, and explain how their work has inspired them to come up with a Big Idea to make our world a better place. It is intended to engage and support Australian students in years 7-10 in Science and encourage them to pursue studies and careers in STEM.
Win an awesome science experience
Prize includes flights, travel, accommodation, and meals
Entry deadline extended to December 4th 2020
Travel in June 2021 - Dates TBC
Do you have a keen interest in science?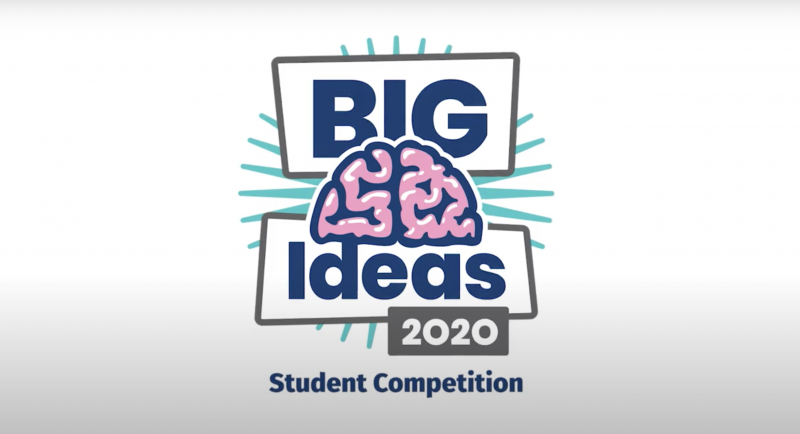 We are looking for teams of 2 students who are creative and passionate – you don't have to be top of your class. Young people using STEM are the ones who will take our society into the future, so present the work of an Australian scientist who inspires you and come up with an innovative Big Idea for a chance to win an awesome Science Experience at the Australian Synchrotron in Clayton (Y7-9) or at the ANSTO campus in Sydney (Y10). Prize includes flights, travel, accommodation, and meals for your team and teacher.
Let's get started
How do I enter?
Entry guidelines
ASSESSMENT CRITERIA

Judges will assess each entry and make their selection based on:

accuracy and clarity of the science content

originality of your Big Idea and your suggested solution

how effectively you have linked the major discovery or contribution to science of your chosen Australian scientist to your Big Idea

innovation and creativity used in your presentation

It is important that you choose an Australian scientist that you have a keen interest in and are passionate about their work.

Although sound and image quality must be good enough for judges to assess your entry, production quality will not be a major consideration in assessing entries. Big Ideas is about the scientific content and the big idea that is inspired by that content. It is also about the clarity and originality in the communication of these ideas, not the investment in the production.
CONDITIONS OF ENTRY

An application to ANSTO Big Ideas includes a team of two students from the same year level (Y7-9 Junior Scientists or Y10 Senior Scientists) and one teacher.

The main component of the application is a video of maximum length of 2 minutes

Videos must clearly include:

The Australian Scientist and an overview of their major discovery or contribution to science

Students' Big Idea based on how they would create something new

or something that could lead to solving a real-world problem which is linked to the work of their chosen Australian scientist.

Entry is free and open to all secondary school students Y7-10 studying at schools in Australia and its territories.  

Entries must be submitted by a teacher, along with the relevant forms granting approval from the school principal and confirming parental permission to attend the Science Experience at one of the ANSTO campuses in November 2020.

Teachers may enter as many teams of students as they wish. Each team must be submitted as an independent application. Teachers must ensure their availability and approval to travel with the students if they win the Science Experience.

Videos may be in any language. Non-English audio (or important on-screen text) must have English subtitles.

Videos must be submitted in .mp4 or .mov format. Videos created on mobile phones must be captured on landscape.

Videos must be uploaded in the application form as a shareable link using Dropbox, Google Drive or Microsoft OneDrive. ANSTO Discovery Centre administrators will contact you directly if they are unable to view/download the video.

Entrants must ensure that all content in their video is their own. It is the sole responsibility of the entrant to secure permission from any third party owners of content included in their video, including footage, music and images. ANSTO takes no responsibility for any failure by an entrant to obtain the necessary permissions. Videos found to contain unauthorised content could be disqualified. For more information on copyright, see the copyright section below. 

The personal information that ANSTO may collect includes the names of the student, Parent/Guardian and Teacher, the name of your school, the student's age, state or territory location, photographs, voice recordings and video recordings. ANSTO may use information obtained in the course of the Big Ideas and the Science Experience in printed and digital materials and websites including reports, brochures, fact sheets, websites, case studies, promotional videos and multimedia presentations. The materials may be used by media outlets. Personal details may also be used to contact the student, Parent/Guardian or Teacher regarding future ANSTO events or to seek your feedback on the Science Experience. The information will only be used for the purposes outlined above, except where required by law. ANSTO respects your right to privacy of your information. Your contact details will remain strictly confidential and will be stored securely to comply with privacy regulations.

All entries must be submitted online by the Entry Deadline. If you experience issues in uploading your entry or have concerns about what has been uploaded, you must contact the ANSTO Discovery Centre via phone (02) 9717 3934 or email bigideas@ansto.gov.au before the Entry Deadline. The ANSTO Discovery Centre administrators cannot modify or add to an entry after the Entry Deadline.
FOR TEACHERS

Benefits to Students:

Think about and research areas/topics of Science that they are passionate about
Recognise and appreciate the scientific research that is being conducted by Australian scientists
Use creative and innovative thinking to come up with their Big Idea

Compliment their learning outcomes in their given year

If they win the Science Experience, students will see a whole new side to what is possible in STEM by becoming immersed in the cutting edge science and research that is happening at ANSTO.

 Students will take away an understanding that STEM areas are crucial for issues that they care about and that science is done every day by people just like them.

Benefits to Teachers:  

Big Ideas is a creative and engaging student activity that can be utilised in class or assigned as independent study

Activity can be linked to Australian Curriculum Science Learning Area content descriptions for each year level.  

Opportunity to engage and motivate students who may not be inclined to continue their studies in Science into senior school by exposing them to an authentic science experience at ANSTO's campuses, either in Melbourne or Sydney

Teachers who attend the Science experience with their students will have a specially designed program separate from the students including hands-on workshops, meetings with our researchers, and first-hand experiences in ANSTO's unique facilities.

ANSTO is endorsed to provide NESA & TQI registered Professional Development for NSW and ACT teachers accredited at the Proficient Teacher level. We can provide a certificate of completion of Professional Development for teachers from other states and territories.

For Teachers: Incorporating Big Ideas into your teaching + Application Process
FORMS/DOCUMENTS
PRIZES

Big Ideas is one of the most authentic science education experiences in Australia where students will explore some of the country's most important scientific infrastructure. With our ANSTO experts, you will see first-hand how scientists turn their big ideas into outcomes that could change the world. Included in the experience are site visits, lab sessions, social outings and excursions to partnering science facilities   

ANSTO covers airfares, ground transportation, accommodation and meals for the students and teachers.

Year 10 students - Win one of six 5-day experiences to ANSTO Sydney for two students and one teacher.

Year 7 to 9 students - Win one of four 4-day experiences to ANSTO Melbourne for two students and one teacher.  
KEY DATES

Entry deadline extended due to COVID-19 travel restrictions 
Entries close – Friday December 4th 2020

 11:59pm

Winners notified – Week of December 14th 2020

Winners announced – Week of December 14th 2020

ANSTO Science Experience (Y10 in 2020) SYDNEY – June 2021 - Dates TBC
Synchrotron Science Experience MELBOURNE (Y7-9 in 2020) – June 2021 - Dates TBC
PROMOTIONAL MATERIAL
COPYRIGHT

It's important for students to know how to properly use other people's content in their work. While citing resources that are used in written works is appropriate, it is actually illegal to take someone else's digital content (pictures, music or sounds) and use it your video. There are two options to ensure that you are doing the right thing when it comes to copyright:

Get written permission from the copyright owners before submitting your film. Make sure to cite permission at the end of your video. 

Use copyright free images, music and sounds effects. Use this guide to properly attribute your sources, if needed.  

Here are some helpful links to get you started:

Arts Law Centre of Australia – Legal information of filmmakers

Free Music Archive – Royalty free music

Pixabay – Free images and royalty free stock

Freesound – Free special effects and sounds

Creative Commons – Use and remix creative content
ANSTO Big Ideas Forum enabled my students to meet like-minded people and make new friends in an experience of a lifetime. The students were given a unique opportunity to see where science can take them well beyond the classroom. The students left with great memories and knowing there are no limits to where science (STEM) can take them in their future.

Mary MacKillop College

Adelaide