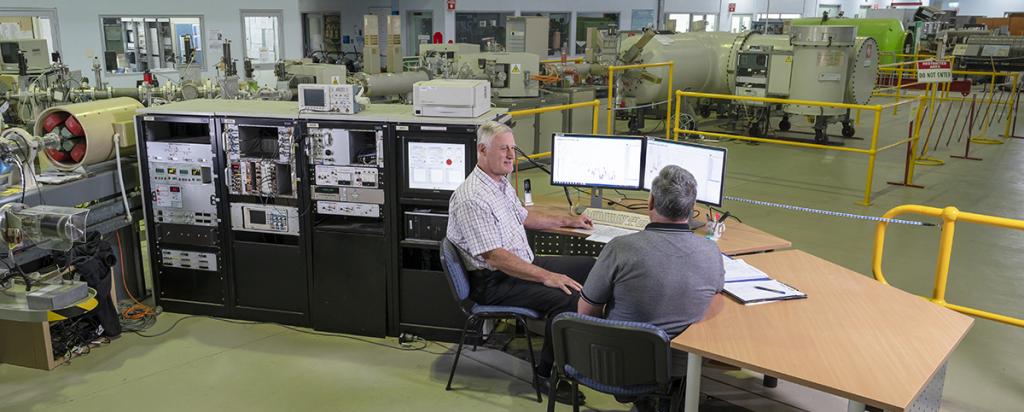 ANSTO plays a leading role in measuring and characterising fine particles from a range of locations around Australia and internationally.
What creates particle pollution
Rapid population growth has created a concurrent rise in fine particle pollution, generated by industry, trucks, coal-fired power stations, cars and other man-made sources.
Nature also generates fine particle pollution in the form of sea spray and wind-blown soil, dramatically illustrated in the September 2009 dust storms that hit Sydney and other areas.
Understanding the size of fine particles
While the human eye cannot see these fine particles - defined as particles with a diameter less than 2.5 micrometres, which is 40-50 times smaller than the diameter of a human hair - high concentrations of them can significantly reduce visibility. In fact, they play a key role in climate variability as they are very efficient in scattering and absorbing solar radiation.  
These fine particles can also cause significant health problems, as the human nose and throat are inefficient at filtering them out, meaning they can penetrate deep into the lungs and even our bloodstream. The image below provides a  size comparison of some common airborne particles.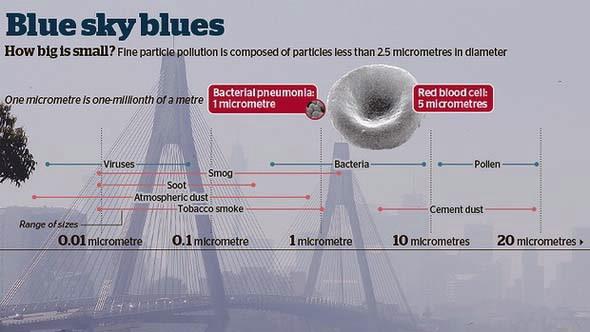 Explanation of Aerosol Sampling Terms
How fine particle samples are collected
Fine particle samples are collected on thin stretched Teflon filters and analysed using Ion Beam Analysis, which is a fast, sensitive and non-destructive way of establishing the chemical elemental and concentration of particles on the filter. The following animation illustrates the process: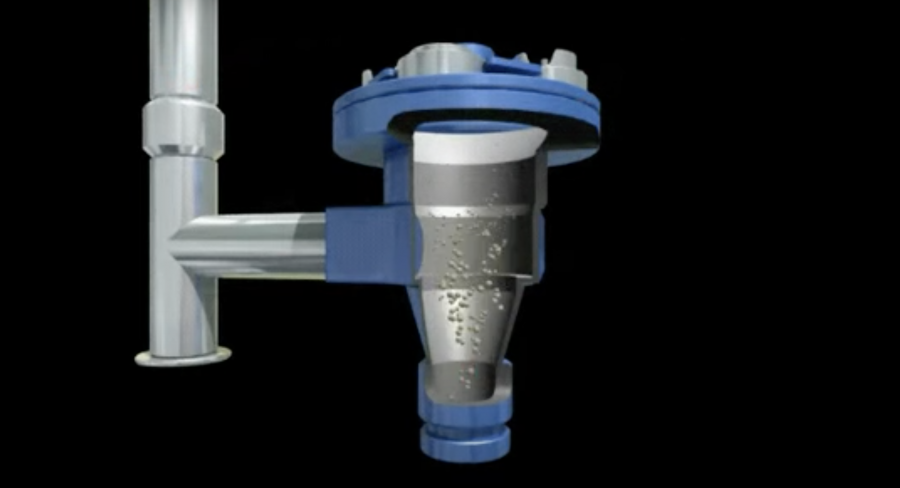 Air is drawn through the air inlet via a narrow gap under the weatherproof cap

It passes down through the stack tube and into the cyclone

After entering the cyclone it begins to spiral where centrifugal forces remove the heavy particles

The lighter PM2.5 particles then continue travelling upwards where they collide with the stretched Teflon filter surface and become trapped. After a set time the filters are removed from the cyclone ready for analysis

Each Teflon filter is then analysed using accelerator-based IBA techniques, which provide a fast, sensitive and non-destructive way of establishing the elemental composition and concentration, more than 20 elements including for example silicon, iron, sulphur and lead, can be identified within the filter.
Aerosol measurement and fine particle characterisation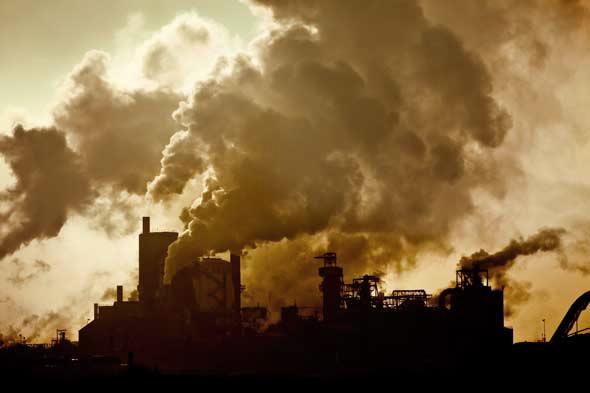 Determination of environmental pollutants by Particle Induced X-ray Emission spectrometry (PIXE) analysis of particulate matter on filter papers from air samples. A complete service is provided, including fine particle sampling units, PIXE analysis of filters using the STAR Tandedron facility, and full data evaluation. The number of running days required to successfully complete each project should be discussed with an ANSTO contact scientist before a proposal is submitted.
Access to aerosol measurement and fine particle pollution capabilities should be made via ANSTO's user office.
Capability Selections
Complete PM2.5 Cyclone sampling unit 
Ion beam analysis (IBA) particle analysis of filters: two per week, includes postage and despatch 
Black carbon measurements on filters 
IBA data interpretation and consulting
Complete PM2.5 Cyclone sampling unit
ANSTO can provide a self-contained PM2.5 cyclone sampling unit including pump and microprocessor control unit to turn off and on at pre-determined times. These units use a stretched Teflon filter designed specifically for ion beam analysis on our accelerators. Talk to our contact people for further information.
Black carbon measurements on filters
The black carbon content on filters can be determined by laser and LED measuring systems developed at ANSTO. Talk to our contact people for further information.
IBA data interpretation and consulting
IBA is a sensitive technique that can be used to estimate elemental concentrations in solid samples in concentrations from (µg/g) to 100% for most elements in the periodic table.