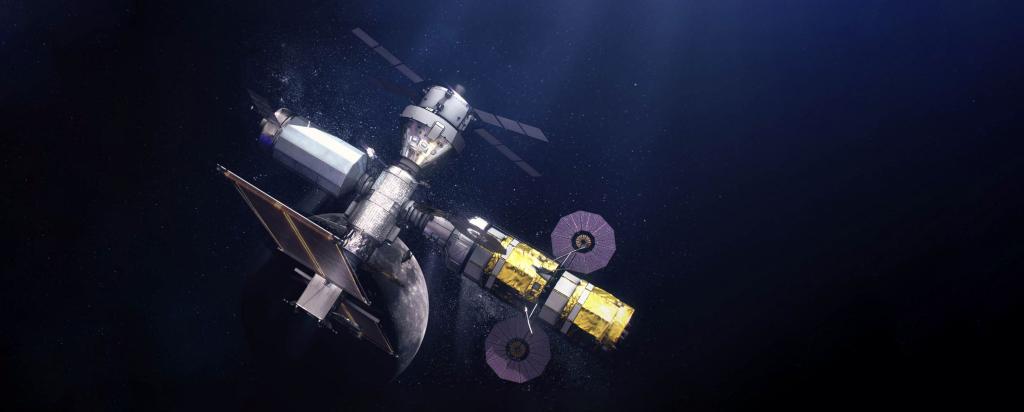 Published on the 16th June 2021 by ANSTO Staff
Key Points
ANSTO is a partner on the National Space Qualification Network to transform Australia into a world-leading space centre

Funding to ANSTO will enable the Centre for Accelerator Science, Australia Synchrotron, and the Gamma Technology Research Irradiator to enhance and improve their capabilities for space radiation damage testing of electronics used in space and ensure they meet international standards in this area

The new network is expected to provide Australia's growing space industry access to a range of facilities for temperature, vacuum, vibration, and radiation testing by operating space qualification nodes across several states
ANSTO is a partner on the National Space Qualification Network (NSQN) led by the Australian National University (ANU) that will transform Australia into a world-leading space centre by enhancing facilities to test payloads, components, and hardware prior to their use in harsh environments of space.
The Department of Industry, Science, Energy, and Resources has announced a Space Infrastructure Fund grant for an academia-industry partnership including ANU, ANSTO, the University of Wollongong, Steritech, Nova Systems, and Saber Astronautics.
Funding to ANSTO will enable the Centre for Accelerator Science, Australia Synchrotron, and the Gamma Technology Research Irradiator to enhance and improve their capabilities for space radiation damage testing of electronics used in space and ensure they meet international standards in this area.
"The network is a key stepping-stone to ready all of our capabilities for use by the Australian and international space sectors. We welcome users to help with any of their needs, including testing or pre-flight qualification, or even at an earlier stage when innovation and quick decision-making will get their products out into space and on missions sooner," said Dr Miles Apperley, Head of Research Infrastructure, ANSTO.
Together, the ANSTO capabilities cover most types of radiation testing and can provide for a range of component sizes and configurations.     
Upgrades and enhancements to irradiation technology at ANSTO, ANU NOVA and Steritech will enhance capabilities in the ACT, NSW, VIC, and QLD to maximise overall efficiency in preparing materials and electronics for the extreme environment of space.
The new network is expected to provide Australia's growing space industry access to a range of facilities for temperature, vacuum, vibration, and radiation testing by operating space qualification nodes across several states, accessing more than $1 billion in existing Australian infrastructure.
It will assist Australian products to enter global supply chains more quickly and facilitate innovation within the Australian space industry.
SME's and start-ups face innumerable obstacles in getting products to market, such as undertaking adequate risk assessments and meeting radiation compliance standards.
Having an Australian network will provide ease of accessibility ensuring reasonable timelines for producing space-rated products using commercial off-the-shelf components.
There is also considerable benefit in having all organisations in the network nodes work under consistent standards for experiment and evaluation.
ANSTO came forward with its suite of core capabilities and experience to contribute to the network, building on more than a decade of radiating electronic devices and similar activity in the Australian civil and defence space sector.
ANSTO has a commitment to the space sector in Australia with its unique infrastructure,  expansive research collaborations, commercial clients, and space tech start-ups at its Innovation Centre.
"This collaboration offers real benefits to Australia, by synergising the capabilities of all the partners," said Sandy Haig, Senior Manager Industry & Stakeholder Engagement
ANSTO's ion beam, x-ray, and gamma-ray irradiation capabilities will be used in testing materials used in space components, including electronic components and systems that will be exposed to the effects of radiation from galactic cosmic rays and solar wind.
"Radiation testing space vehicles and their payloads before they are launched into space is important for reducing the risk of component failure and ensuring mission success," said Haig.
ANSTO anticipates using the funding to enhance all of its relevant capabilities to meet accreditation for space applications.  This includes the external beam facility on the high-energy heavy-ion microprobe launched this year at the Centre for Accelerator Science for space-related studies.
"Our ion beams can target specific areas of concern within electronic chips – down to one-thousandth of a millimetre in size -  to see how a circuit will respond and recover if it encounters a shower of charged particles in space, a crucial test that mission-critical devices need to pass," said Dr Ceri Brenner, Leader, Centre for Accelerator Science.
Ion beams from accelerators, together with X-rays from ANSTO's Australian  Synchrotron, have proved to be useful proxies for the harsh conditions of space.
The cobalt-60 gamma irradiator (GATRI) at ANSTO is an established, accredited radiation system that can deliver high-intensity gamma radiation to electronic circuits.
Read about other exciting developments in radiation protection for spacecraft, aviation and accelerator from CERN
Read in Cosmos how Dr Ceri Brenner describes ANSTO's role in the network