Published on the 17th August 2021 by ANSTO Staff
Construction of the Southern Hemisphere's first dark matter underground physics laboratory is progressing with the concrete slab now in place and the world-class facility on schedule to welcome scientists by Christmas (pending lockdown arrangements).
The five research institutions that will work at Stawell are Melbourne University, Swinburne University of Technology, Adelaide University, the Australian National University and ANSTO.
Dr Leonie Walsh, Victoria's first lead scientist, first woman president of the Australian Innovation Research Group and representative on the Forum of Australian Chief Scientists, is interim chair of the company that will operate and manage the Stawell Underground Physics Laboratory (SUPL).
Dr Walsh recently visited the underground laboratory in regional Victorian, seeing first-hand the work underway to ensure that the lab, one kilometre underground,  has an excellent chance of detecting the universe's elusive dark matter.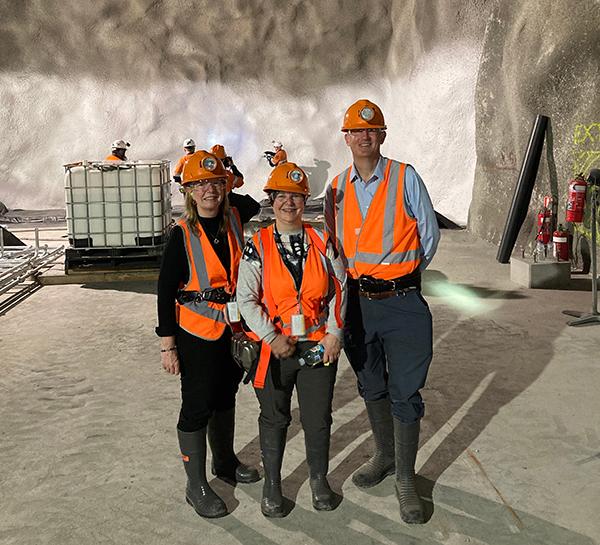 (left to right) Dr Leonie Walsh, Prof Elisabetta Barberio and Prof Andrew Peele more than a kilometre underground where the new Underground Physics Laboratory is under contruction Image courtesy of University of Melbourne
ANSTO's representative on the SUPL company board, Professor Andrew Peele, accompanied Dr Walsh on the inspection and said: "Science goes to extreme lengths to find answers, and in this case, to a very sheltered environment a kilometre underground. It is impressive to see the progress made first-hand and pleasing to see the preparations for the range of activities that will advance our understanding of dark matter.

ANSTO is delighted to be part of this project and to share our expertise in ultra-sensitive radiation measurement. This is critical to the operation of the instruments that will be housed in SUPL and will also make possible high-precision radiation measurements needed to better understand environmental and other samples."
"We saw the cavern walls where the lab is being built, being sprayed with a product called Tekflex to reduce the potential for interference from background radon gas in the rock mass, in experiments," Dr Walsh said.
"As an industrial scientist, I have worked across a broad range of industrial sites around the world, but none as unique as SUPL."
It takes half an hour to journey underground to the site of the lab. Dr Walsh and the small group completed the journey after undergoing the strict safety induction and personal protective equipment (PPE) fit-out.
"Researchers will start their day with a 10km drive down a maze of tunnels in protective equipment to the cavernous laboratory, 1100 meters underground to work on their dark matter experiments with equipment designed and built for the purpose of finding dark matter – this thing that makes up 85 per cent of our universe, but which continues to be a mystery," she said.
"The disused section of Stawell's gold mine in regional Victoria has turned out to be the ideal location to progress our understanding of dark matter."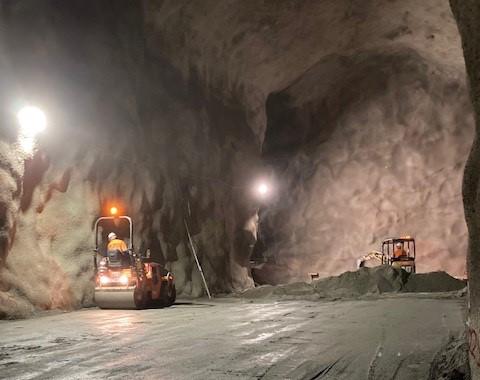 Construction of the underground physics lab progresses Image courtesy of the Universitry of Melbourne
The 33-metre long, 10-metre wide lab is funded by a $10 million grant from Federal and State Governments, supported by a $35 million Australian Research Council for the Centre of Excellence for Dark Matter Particle Physics based at the University of Melbourne.
Tom Kelly, the University of Melbourne's Senior Project Manager, said that major pieces of the plant as well as plumbing, electrical and communications cable and mechanical ductwork and piping are expected to be in place by early October.
"We anticipate the handover to be on time and to commence the installation of experimental equipment before Christmas," Mr Kelly said.
Content adapted from a media release issued by the University of Melbourne