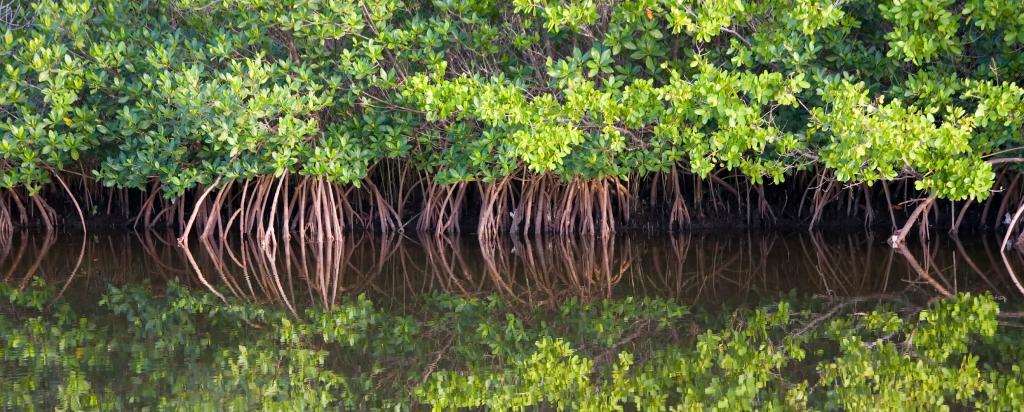 Published on the 31st July 2019 by ANSTO Staff
Dr Debashish Mazumder and Ms Atun Zawadzki of ANSTO contributed to the study by the 'Blue Carbon Horizons Team' that found coastal wetlands capture more carbon as sea levels rise and could mitigate the impact of climate change.
(left to right) Dr Debashish Mazumder (ANSTO), Associate Professor Kerrylee Rogers (UOW), Ms Atun Zawadzki (ANSTO), Dr Jeffrey Kelleway (UOW), and Professor Colin Woodroffe (UOW). Photo: Paul Jones, UOW
Mazumder leads the Aquatic Ecosystems and Food Provenance projects at ANSTO and uses isotopic techniques in investigations of aquatic ecosystems and food traceability.
Zawadzki, a radiochemistry specialist, uses nuclear techniques to trace the rates of sediment accumulation using  lead-210 and caesium-137.
The study which appeared in the prestigious journal Nature earlier this year has attracted global interest since it was published.
"This is very exciting news and reflects the high calibre of our scientists, who undertake environmental research. Nuclear and stable isotopic techniques are incredibly useful in environmental studies, because of their precision in determining how quickly sediment is accumulated. This information was important in the investigation of salt marshes in Australia," said Dr Tom Cresswell, Acting Leader, Environmental Research.
As reported on the University of Wollongong website, investigators found that coastal wetlands, such as mangrove forests and saltmarshes, capture and store more atmospheric carbon dioxide (CO2) per unit area than any other natural system. They have been termed "blue carbon" ecosystems because of their ability to capture carbon and their connection to the sea.
"The capture and storage of carbon by coastal wetlands has a dual benefit. As well as removing CO2 from the atmosphere, the organic carbon that accumulates also builds the elevation of the wetland as sea levels rise. This could potentially offset the degree of coastal inundation that may occur with sea-level rise," said Associate Professor Kerrylee Rogers, an environmental scientist from UOW and Chief Investigator.
Working with colleagues from the Smithsonian Institution, USA, and Nelson Mandela University, South Africa, the team gathered data from 345 locations worldwide, showing that historically, sea-level rise has increased the amount of carbon stored in wetlands.
To ascertain whether this pattern would continue throughout this century, they also found contemporary evidence of the same effect, by analysing carbon storage within a subsidence affected coastal wetland on the shores of Lake Macquarie, NSW.
"Our team dug into the global sedimentary record and found that both historic and current sea-level rise has substantially increased the amount of 'blue carbon' sequestered by coastal wetlands," Professor Rogers said.
"In a time of accelerating sea-level rise, our findings provide a powerful incentive for wetland conservation and restoration in Australia and across the globe."
The Blue Carbon Horizons team comprised A/Prof Professor Rogers, an environmental scientist from UOW's School of Earth, Atmospheric and Life Sciences, Dr Jeffrey Kelleway (UOW), Professor Neil Saintilan (Macquarie University),  Professor Colin Woodroffe (UOW) and Mazumder and Zawadzki from ANSTO.
The Blue Carbon Horizons Team works with a range of government and non-government organisations, advancing new approaches to protect and restore these important coastal ecosystems.
Finalists for the 2019 Eureka Prizes were announced on Wednesday 31 July. Winners will be announced at a gala award dinner at Sydney Town Hall on the evening of Wednesday 28 August.
Read more about ANSTO's contribution.