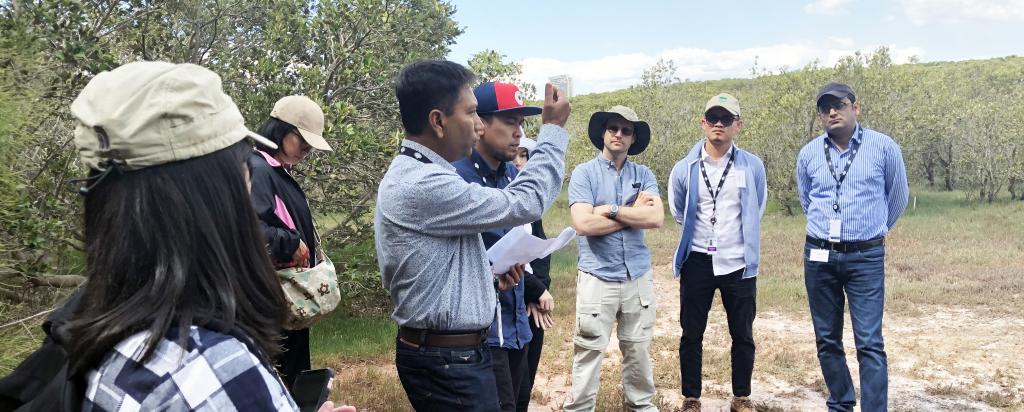 Published on the 16th December 2019 by ANSTO Staff
Twelve participants from the Asia Pacific region recently attended an International Atomic Energy Agency (IAEA) Regional Training Course at ANSTO on 'Assessing the vulnerability of coastal landscapes and ecosystems to sea-level rise and climate change".
The training, which was undertaken under an IAEA Regional Cooperative Agreement (RCA) project, was led by Course Director, Dr Debashish Mazumder, with the participation of Lead Country Coordinators, Associate Professor Kerrylee Rogers of the University of Wollongong, Professor Henk Heijnis (ANSTO) and IAEA Technical Officer, Dr Paul Morris.
Under the RCA project, each participating country selects and implements a project focused on a local coastal environment.
The training was highly interactive including a mix of classroom lectures, laboratory-based practical sessions and fieldwork to enhance the technical skills of participants in using nuclear techniques and stable isotope analysis to gain a better understanding of coastal processes and the response of coastal landscapes and ecosystems to climate change. 
For the fieldwork, participants travelled to Sydney Olympic Park saltmarsh and mangrove wetlands to learn sediment sample collection techniques and ecological functions from Rogers, Heijnis and Mazumder.
Lecture topics included dating environmental samples using radioactive isotopes and X-ray fluorescence ITRAX scanning and related techniques.
Other ANSTO presenters included Dr Geraldine Jacobsen, David Child,  Atun Zawadzki and  Patricia Gadd.
Atun Zawadksi (centre) led one of the practical sessions
Representatives from Bangladesh, Cambodia, China,  Indonesia, Malaysia, Myanmar, Pakistan, The Philippines,  Thailand and Vietnam all participated in the course.
"We had a very competent and enthusiastic group, who all face a very different set of environmental challenges.  These sensitive and powerful techniques can be applied to diverse locations and conditions. We have used them widely in an Australia context for a decade or more. I am confident they are returning to their respective countries well prepared for the challenges ahead," said Mazumder.
"Participants will be able to evaluate the vulnerability of coastal areas and assess how resilient they will be to climate change. This understanding will improve their ability to plan management scenarios such as setting aside land for shoreline and ecosystem migration or removing barriers to the supply of sediments to coastal landscapes, such as dams, levees and floodgates.  The information can also be used to identify adaptation options that improve shoreline resilience," said Heijnis.
Rogers, Mazumder and Zawadzki were part of the team that received the Eureka award this year for environmental research.
The International Affairs team at ANSTO assisted with arrangements for the training course. 
ANSTO has led, participated in, and supported RCA projects for over forty years.