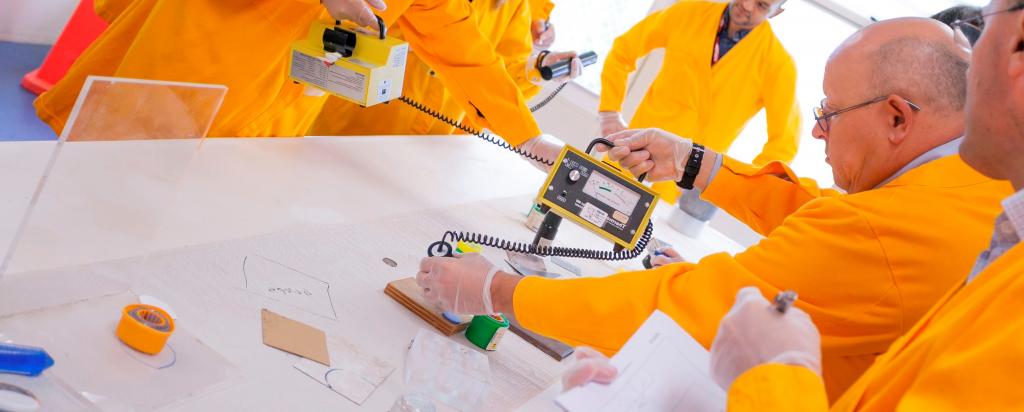 Consultancy
ANSTO offers a unique and highly specialised consultancy service. Businesses can benefit by access to a number of ANSTO facilities and services such as environmental analytical laboratories, training facilities, extensive radiation protection resources and strong links to research and industry. Our consultancy services include:
Expert advice

assessments and recommendations for compliance to national and state legislation
advisory service provided by Radiation Safety Officers
development of radiation management plans for industrial, mining and medical organisations
advice on source security compliance
Radiation source inventory

identification and classification
packaging for transport
photo linked inventory
High activity source management

removal
transport
disposal
NORM/Environmental

advice on handling naturally occurring radioactive material (NORM)
monitoring services for mining and oil and gas industries
radiation surveys and baseline measurements for mine sites
Occupational safety

wipe tests
X-ray, X-ray diffraction (XRD) and X-ray fluorescence (XRF) units
radiation protection monitoring
Waste management services

source identification, transportation and disposal
decontamination and waste minimisation
waste management planning and services
Managing land contamination

site contamination surveys
characterisation of radioactively contaminated land
remediation of contaminants
Training
ANSTO has been recognised for setting the benchmark in radiation safety training in Australia. Our range of radiation safety training courses provide valuable knowledge and expertise in radiation protection principles and practices. 
Participants on our courses benefit from the unique opportunity to utilise our on-site radiation facilities and equipment to enhance their training experience.
Training Calendar
Instrument Calibration
Annual inspections and testing of operational radiation monitors are absolutely essential for the safety of staff working with ionising radiation sources and ensures that your practice adheres to current requirements set out by commonwealth and state regulators.
Quality calibration services
ANSTO provides reliable and traceable calibration services for radiation survey meters, contamination monitors and electronic personal dosimeters.
ANSTO has more than 20 years of experience providing this essential calibration service based on approved methods and standards.
Our reference sources are traceable to the Australian standard maintained by the Australian Radiation Protection and Nuclear Safety Agency (ARPANSA).
ANSTO operates under ISO 9001 Quality Management System accreditation.
For question please see our frequently asked questions page.
Calibration and repair

Dose rate monitors

Surface contamination monitors

Electronic dosimeters

Radioisotope identifiers

Neutron monitors

Electronic adjustment and minor repairs
Service provision

Fast turnaround time –maximum of five working days from receipt of instrument to calibration

Reliable service  with expert advice concerning evaluation of instrument performance

Accurate calibrations of radiation survey monitors against Cs-137 sources over a wide
After service support

Upon completion we will return the instrument along with a calibration certificate presenting the results and findings.

We will contact you in the lead up to the annual calibration date to ensure you maintain compliance to relevant regulations
Instrument calibration fees

Instrument type
Price range (GST Inc.)*
 
Dose rate meter / survey meter 
$302 - $365
 
Contamination monitor   
$302 - $365
 
Additional modes or probes 
$108 - $130 
 
Neutron monitor    
$372 - $450
 
Personal electronic dosimeter 
$116 - $140
 
Tritium monitor 
$455 - 550
 

 

*Price is dependent on quantity of instruments to be calibrated. Bulk discounts apply.  
Contact
Email: radiationservices@ansto.gov.au
If you have any questions please send us your enquiry and a member of the team will respond.
If you are attending one of our on-site radiation training courses, please read the coming to visit page.
Helpful links
Further information