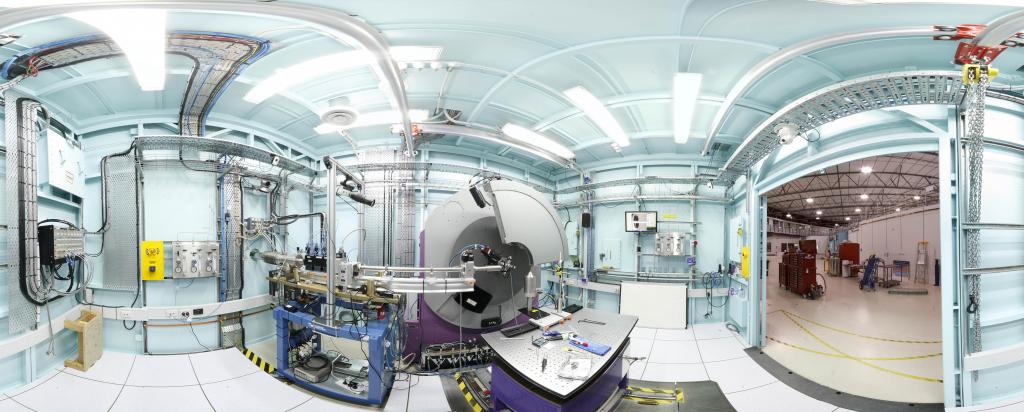 Beamline Specifications
Source
Bending magnet
Available energy range
8-21 keV (0.59-1.6 angstroms)
Mirrors
Rh coated
 
2.5 mrad incidence angle
 
VCM - collimates beam. Horizontal focussing possible with toroid mirror.
 
VFM - focuses beam vertically. Currently, there is no horizontal focusing capability. ** Will be upgraded 2020.
DCM
Si(111) flat crystal pair, energy range 8-21 keV
Nominal beam size at sample
Unfocussed: 5 mm (H) x 2 mm (V)
Focussed: 3 mm (H) x 1 mm (V)
Harmonic content
<1% in the case of two mirrors
Beamline Design
The Powder Diffraction beamline is located on a bending magnet source and has been designed to operate over the energy range 8-21 keV. The beamline consists of three hutches and a user cabin.
The first hutch contains the optics, including mirrors and double crystal monochromator. The centre hutch houses the primary end station where the majority of powder diffraction experiments are undertaken. Finally, the third hutch contains a large optical table which allows a variety of alternative configurations.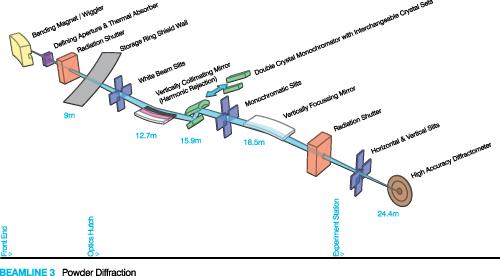 Schematic layout of the 10-BM-1 Powder Diffraction beamline
End Stations
End Station One
End station one has been optimised to accommodate capillary measurements under a range of sample environments. This end station is well suited to time-resolved and in situ experiments as well as more traditional powder diffraction geometries and experiments. 
End Station Two
End station two has been designed to carry out experiments using non-standard sample stages, a 2D detector, and those requiring longer setup times. Typical experiments that are carried out in this end station include battery charge and discharge cycling, high-pressure studies and user-developed sample environments. 
Detectors
The detectors available for use are:
Mythen II, microstrip detector.
Mar 345, 2D image plate area detector.