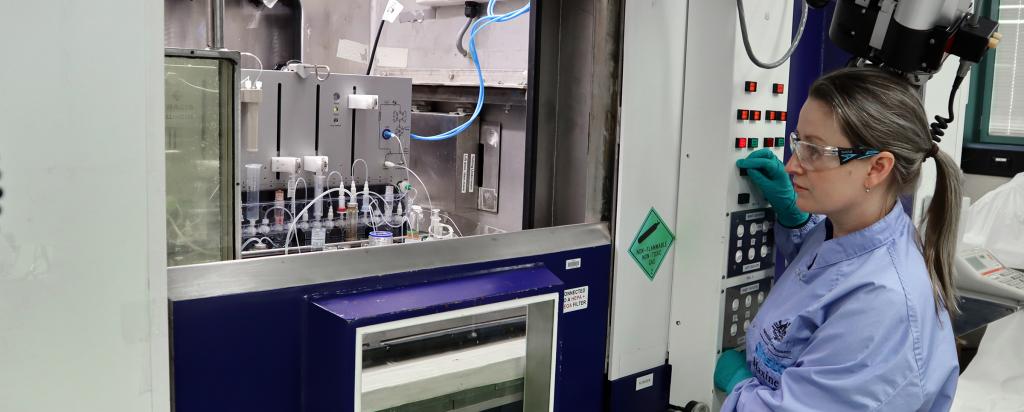 Published on the 29th September 2022 by ANSTO Staff
Excellent radiolabelling facilities and the operation of OPAL, a world-class multi-purpose nuclear reactor, enable ANSTO to produce a large range of radioisotopes for Australian researchers in both the radiopharmaceutical and environmental areas.
"Terbium-161 is an emerging radioisotope with tremendous potential as a breakthrough cancer treatment. OPAL is being used to produce research quantities of terbium-161 with projections to make it available for clinical trials in 2023," said radiochemist Dr Maxine Roberts of ANSTO's Radioisotopes & Irradiations team.
"Terbium-161 is a new and very exciting therapeutic radioisotope that we are producing and want to deliver to hospitals and researchers in the near future," she added.
"The radiation emitted by terbium‑161 includes short-range beta particles (electrons). But more importantly and interestingly, Auger electrons enable terbium-161 to selectively destroy cancer cells whilst leaving the surrounding healthy tissue largely unaffected.
"Terbium‑161 is delivering impressive results in animal models of cancer that has led many leading radiopharmaceutical scientists to believe it can become the leading therapeutic radioisotope for treating cancer in the decades ahead," Dr Roberts said.
The therapeutic effects of radioisotopes are also employed in ANSTO's radical advanced new therapy, known as Neutron Capture Enhanced Particle Therapy (NCEPT). The technology works by delivering a "one-two punch" to cancer cells.
"The first punch is given by the particle beam through direct irradiation of the tumour cells, while the second punch is given by drugs which capture thermal neutrons generated internally during the irradiation," explained A/Prof Benjamin Fraser, Task Leader, Radiotracer Methods and Organic Chemistry.
The secondary neutron capture events release high-energy particles such as lithium ions, alpha particles or Auger electrons, which further damage and kill cancer cells. The first clinical trials for NCEPT are expected to take place in the next 1-2 years.
ANSTO is actively working on the development of neutron capture (gadolinium-157 and boron-10 enriched) drugs for the treatment of cancers with NCEPT.
"Building networks with Australia's research community will establish partnerships to help get significant quantities of these neutron capture isotopes into drugs. This will make the drugs more effective at killing tumours," said A/Prof Fraser.
Radioisotopes can also be very useful in environmental contaminant tracing studies.
"We are producing radioisotopes for environmental research, particularly for understanding the impact of heavy metals on the environment.
"This is to bring a better understand of how heavy metals accumulate, what impacts they have, and how we can mitigate against any negative effects," said radiochemist Dr Elisabeth Tondl.
"Mercury-203 is an ideal radioisotope for these investigations," explained Dr Tondl.
"The radioisotope has a longer half-life of 47 days and a prominent emission of gamma radiation, which can be detected at very low levels. This makes it ideal for laboratory studies that mimic environmental conditions allowing ANSTO researchers to provide recommendations on remediation and risk mitigation of mercury in the environment."
ANSTO Biosciences is supplying mercury-203 to ANSTO researchers, including environmental research scientist Dr Tom Cresswell and external collaborators, including Prof. Andrea Robinson at Monash University, who develops radiolabelled peptides as new radiopharmaceuticals for the treatment of cancers, including neuroendocrine tumours.
A/Prof Fraser, Dr Roberts and Dr Tondl have been elected to Royal Australian Chemical Institute (RACI) Radiochemistry Division Committee.
"We are hoping to bring together Australia's leading radiopharmaceutical scientists and hospital clinicians in a highly collaborative environment. We want to build new partnerships and show collaborators what radioisotopes and capabilities are available for new radiopharmaceutical development at ANSTO," said A/Prof Fraser.
---
Thanks to A/Prof Fraser for his contribution to this content