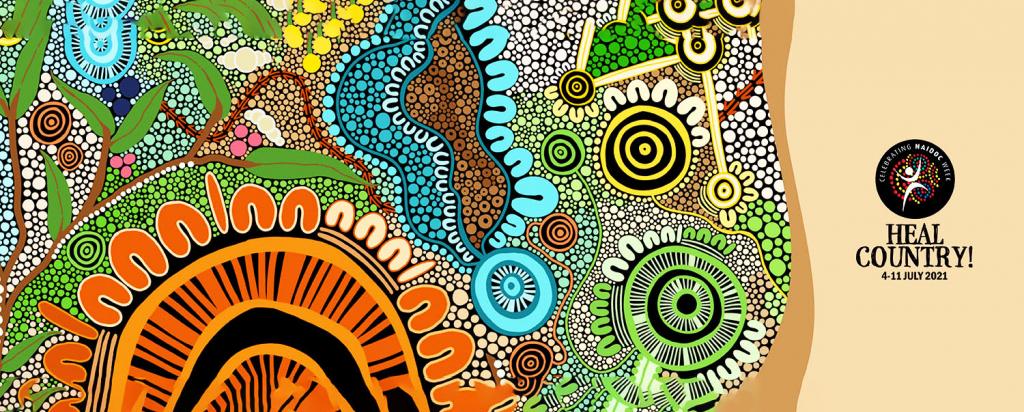 Published on the 5th July 2021 by ANSTO Staff
ANSTO proudly contributes to measures that recognise all aspects of Aboriginal and Torres Strait Islander culture and heritage by appropriate recognition of traditional lands where campuses are located, the use of state-of-the-art techniques and landmark infrastructure to confirm the great antiquity and importance of culture, and a commitment to Aboriginal Reconciliation.
To celebrate NAIDOC Week 2021, the Australian Synchrotron staff are marking progress on their Indigenous Garden and meeting circle, which is a planned space to acknowledge traditional Kulin lands.
CEO Shaun Jenkinson said NAIDOC Week was a good time to look back on what progress has been made and look ahead for new opportunities. He acknowledged the theme, 'Heal Country, heal our nation' was a compelling message that could benefit all Australians.
"The research undertaken here highlights the importance of Country. With the collaboration of traditional owners across many parts of Australia, we are contributing scientific evidence of ancient knowledge and practices that extend back more than 65,000 years."
A range of nuclear and accelerator techniques have proven to be highly useful in characterising cultural heritage materials and dating artefacts.
From evidence of the earliest indigenous occupation of Australia's coast to dating of ancient rock art in the Kimberley and Kakadu regions, to providing evidence to supporting the World Heritage listing for Budj Bim Cultural Landscape, ANSTO's capabilities have proved valuable.
The use of the cosmogenic nuclides, that act like clocks in rocks, and radiocarbon dating of materials on the surface and beneath rock art, have made it possible to provide minimum and maximum ages for rock art (which contains no carbon for dating purposes).
X-ray techniques at ANSTO's Australian Synchrotron have been used to identify the pigments in ochres used in precious Aboriginal bark painting without causing damage to the objects.
ANSTO commitment to Aboriginal Australia does not only concern the past as it recently announced the Nuclear Safety Development Program, supported by the Sir William Tyree Foundation will provide two young indigenous Australians with the opportunity to gain multiple skills and qualifications in the specialised areas of Health Physics Surveying, Work Health and Safety, Occupational Hygiene and Commercial and Regulatory Awareness.
In 2019 ANSTO launched its Innovate Reconciliation Action Plan recognised by Reconciliation Australia.
Dharawal cultural advisors Rick O'Brien (left) and Bruce Howell with an example of Dharawal rock art in proximity to ANSTO
Much progress has been made on the plan since then. The latest activity involved producing high-quality reproductions of Dharawal rock found in proximity to ANSTO for the nandin innovation centre's new home.