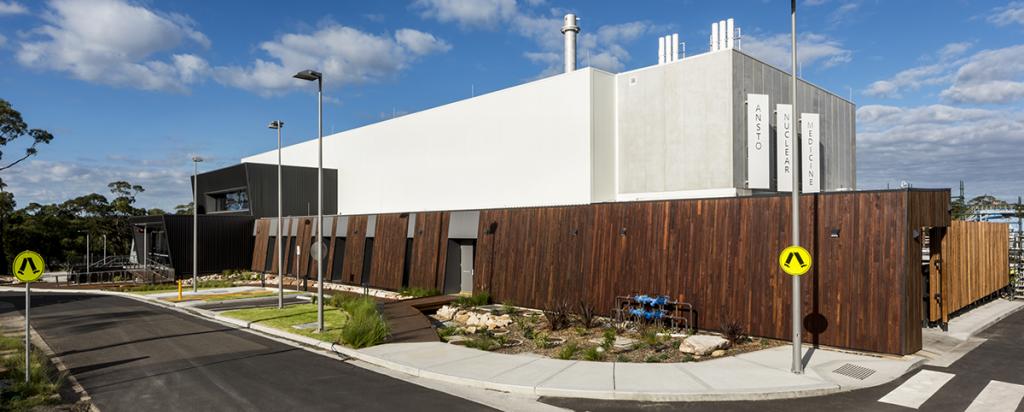 ANSTO received $168.8 million in funding from the Federal Government in 2012 to expand its operations and construct a new medicine manufacturing and waste treatment facility. 
This decision followed identification that world Mo-99 demand was increasing, that there were only a small number of reactors around the world which were capable of supplying it. The supply chain was going to get less reliable because a number of those international reactors were slated for closure due to ageing, while our reactor opened in 2007 has decades of operational life ahead.
Manufacturing Mo-99 in Australia
The facility ensures the long-term sustainability of Mo-99 supply in Australia, and positions Australia to supply bulk molybdenum globally.
The state-of the art Molybdenum-99 Manufacturing Facility is now operational, receiving molybdenum-99 produced by the adjacent OPAL reactor.  It greatly enhances Australia's Mo-99 production capabilities.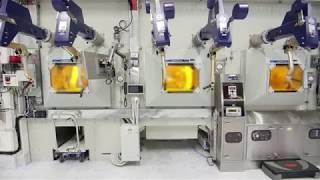 Synroc Molybdenum Waste Treatment Facility
The ANSTO Synroc® Molybdenum Waste Treatment Facility is under construction, in close proximity to the reactor and manufacturing facility. The plant will process and encapsulate liquid waste from nuclear medicine production using ANSTO's Synroc® technology.
ANSTO's Synroc® technology is an Australian innovation that is a cost effective, low risk solution for the treatment of radioactive waste. One of its main benefits is that it significantly reduces the volume of nuclear by-products compared to other methods (such as encasement in cement), potentially saving organisations many millions of dollars in the safe storage and ultimate disposal of their waste.
The ANSTO Synroc® technology delivers a permanent, safe and economical way of treating waste from past, current and future manufacture of nuclear medicine and other processes. 
What is Mo-99?
Mo-99 is the radioisotope used by millions of people around the world in nuclear medicine procedures for the diagnosis of heart disease and other diseases. Mo-99 gives off very small amounts of radiation that is picked up by gamma cameras, providing vital information for doctors seeking to understand how the body parts of patients are functioning.
UPDATE: ANM Licence Amendment 
2 April 2020 
Attributable to a spokesperson for ANSTO:
Production of bulk Mo-99 at ANSTO's nuclear medicine production facility ANM can be increased when staffing arrangements are in place, after a decision from the nuclear regulator.
Mo-99 is the parent isotope of Technetium-99m, which is used in hospitals and nuclear medicine centres to diagnose a variety of heart, lung, organ and muscular-skeletal conditions.
It is the world's most commonly used nuclear medicine, with tens of millions of patients needing access to the medicine around the world every year.
On March 27 2020, ARPANSA's CEO amended ANM's current licence to allow for a measured increase in production of this potentially lifesaving nuclear medicine. 
The decision followed an application to ARPANSA from ANSTO in November 2019 to remove a restriction on production at ANM following regulatory actions undertaken earlier in 2019.    
The amended licence provides for production to ramp up slowly, from three, to four and possibly more runs per week, evaluating the one phase before moving to the next. This will commence in due course.  
ANM has been meeting Australia's domestic needs for nuclear medicine, and production will continue at that level until the broader health situation allows staffing arrangements to return to normal. 
Two-thirds of ANSTO's workforce are currently working from home on account of the COVID pandemic, while reactor, safety, security, nuclear medicine and other essential staff work on campus as per normal.
The on-campus staff have been split into two distinct teams for business continuity purposes, to ensure ongoing supplies of critical nuclear medicines, which Australians rely on every day.
ANSTO acknowledges ARPANSA's independent regulatory oversight and its role in supporting a safe and strong future for nuclear medicine in Australia.
Below is a detailed list of products available through ANSTO. This list includes relevant links to product information sheets, consumer medical information, directions for use, elution profiles and accessories.