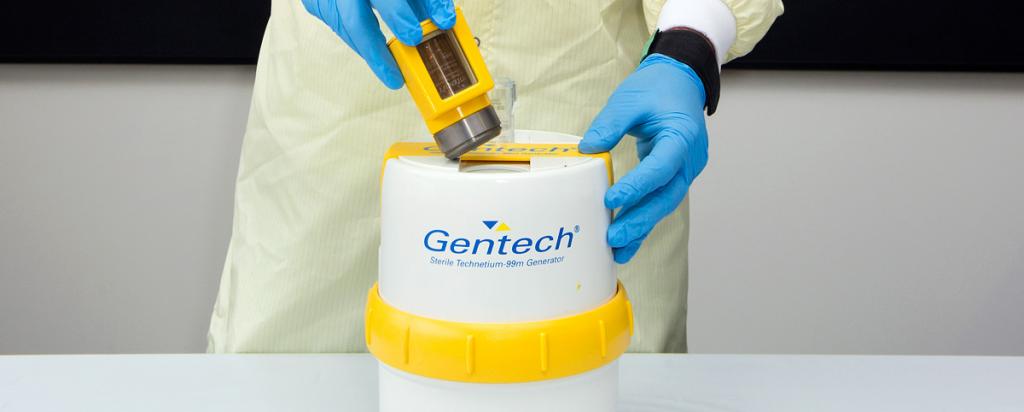 Radiopharmaceuticals
Chromium - 51
Gentech® Generator
Indium - 111In DTPA Injection

Pentetate Indium Disodium [111In] is recommended for use in radionuclide cisternography.
Lutetium-177 non-carrier added

Non-carrier added Lutetium-177 (n.c.a. Lu-177) is emerging as a radioisotope of choice for targeted radionuclide therapy.

This radioisotope is currently being supplied for a range of clinical trials in Australia. Watch our video. 

Review full product details.
Lyophilised Kits - MDP Skeletal Agent
Lyophilised Kits - Pentastan DTPA Multi
DRAXIMAGE MACROSALB®
DRAXIMAGE MAA®
MIBGen® Iobenguane  - 123I Injection Diagnostic

Diagnostic scintigraphic localisation of phaeochromocytomas, paragangliomas (chemodectomas), ganglioneuroblastomas and ganglioneuromas.  Detection, staging and follow-up on therapy of neuroblastomas. 

I-123 MIBG manufactured by ANSTO (ARTG 101670) is currently unavailable, however ANSTO can help with procuring this product under TGA's Special Access Scheme (SAS) for use in exceptional clinical circumstances, please contact  ANSTO Customer Service for further information. 
Quadramet® Samarium

Quadramet is indicated for the relief of bone pain in patients with painful osteoblastic skeletal metastases as indicated by a positive bone scan. The presence of bone metastases should be confirmed prior to therapy.

Quadramet is currently unavailable. Please contact ANSTO customer service for further information.
Sodium Iodide - 131I Therapy Capsules
Sodium Iodide - 131I Solution BP for Therapy

Sodium Iodide [131I] Solution BP (for therapy) is indicated in the treatment of hyperthyroidism and the detection and ablation of residual functioning thyroid tissue in differentiated thyroid carcinoma.
Radiochemicals
Samarium-153 Solution
Sodium Iodide-123 Solution
Sodium Molybdate (Mo-99) Solution
Accessories
Generator accessories

For use with Gentech® Technetium Generator

Elution Pot, Elution Pot Lid, Generator Garage, Vials (5ml, 10ml and 30ml)
Sodium Iodide-131 accessories
Ask us a question
If you would like to place a product order or have any further questions please contact the health team.