The Biosciences group at ANSTO is focused on the development and translation of radiopharmaceuticals to improve the detection and diagnosis of disease.
ANSTO has the expertise and capabilities to supply radioisotopes and undertake radiochemistry, radiation biology and preclinical imaging studies to develop and evaluate radiopharmaceuticals. This includes the use of new radioisotopes from the OPAL multipurpose reactor.
Concurrently, ANSTO also supplies existing radiotracers and contributes to the development and characterisation of new radiotracers.
For further information contact: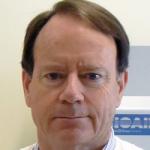 Dr John Bennett, Leader, Biosciences