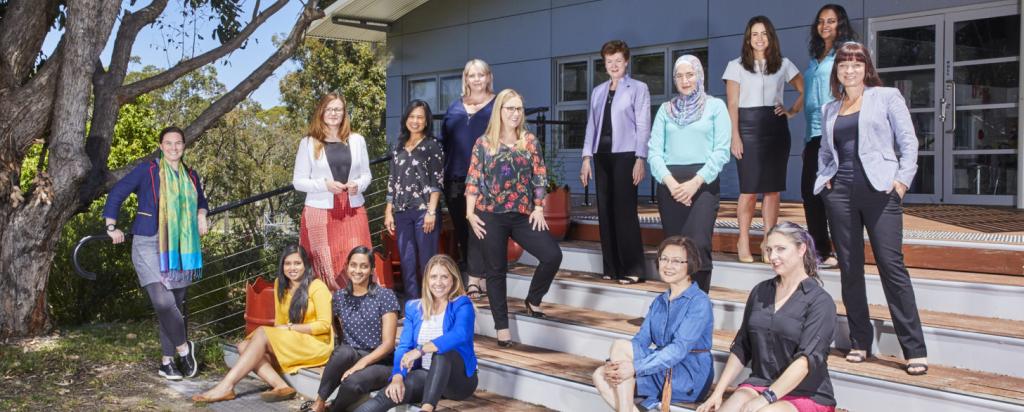 ANSTO is committed to supporting the next generation of women in STEM. We are offering a range of opportunities for our female STEM leaders to connect with students from across Australia.  
ANSTO's STEM professionals are available to connect and inspire your students
Choose from the list below
Dr Rebecca Auchettl - Synchrotron accelerator scientist

 

Dr Rebecca Auchettl is an accelerator scientist at the Australian Synchrotron in Clayton, Victoria. Rebecca uses the Far Infrared beamline at the Australian Synchrotron to investigate icy materials in Titan's atmosphere that could harbour important biological precursors formed by radiation chemistry. 

Additional Links: 

https://www.ansto.gov.au/news/insights-into-titan%E2%80%99s-atmosphere
Dr Stephanie Boer - Synchrotron instrument scientist

Dr Stephanie Boer is an instrument scientist at the two Macromolecular Crystallography (MX) beamlines at the Synchrotron, focusing on the concerns of the chemical crystallography community. She provides support to beamline users and is working on developing more efficient data processing for the data collection on these beamlines. 

Stephanie has a background in synthetic chemistry, ranging from chiral coordination chemistry to hydrogen-bonded frameworks and photocatalytic systems. All of her research has involved crystallisation, crystal engineering, and structural analysis. 
Dr Eleanor Campbell - Synchrotron beamline scientist

 

 

ANSTO's Australian Synchrotron produces light a million times brighter than the sun, which is harnessed by researchers from all over the country to carry out cutting edge research. The macromolecular crystallography beamlines allow researchers to look inside the complex structures of proteins and construct detailed models of how these vital biological molecules work. 

These were the beamlines that Dr Eleanor Campbell used during her PhD research to investigate enzymes that can break down environmental toxins quickly and safely. Now, she is a beamline scientist at those very beamlines, providing expert support to a diverse user community. She holds a Bachelor of Science (Honours) (2013) and a PhD in Chemistry from the Australian National University (2018), and spent two years as a postdoctoral researcher at the Department of Biochemistry at the University of Cambridge. 

Eleanor has always been a passionate science communicator. She has written for CSIRO's The Helix, edited the science pages of ANU's student newspaper, Woroni, and produced and presented episodes of 2xx's 'Fuzzy Logic' and popular podcast 'The Science Shed'. She has also coordinated large outreach events like the chemistry modules of SciScouts, the National Indigenous Summer School, and the Biochemistry Open Day for Cambridge Science Week. 

Additional Links: 

https://careerswithstem.com.au/profiles/eleanor-campbell/  

https://www.smh.com.au/technology/anu-researchers-lead-groundbreaking-enzyme-study-20160915-grh9wj.html  
Lucy Griffith - Electrical engineer

Lucy graduated from the University of Adelaide with a Bachelor of Engineering in Electrical and Electronics Engineering. Not content to stop there Lucy also obtained a Degree in Maths and Computer Science as well. 

She has worked with Alstom as a Design Engineer, Design Coordinator and a Systems Engineer and is now a Project Engineer for the Opal Reactor at ANSTO Lucas Heights. 

Lucy is the Secretary of Young Engineers Australia Sydney.  

Additional Links:  

https://engineeringheroes.com.au/imposter-syndrome-with-lucy-griffith/ 
Dr Jo Lackenby - Nuclear engineer

 

As the Regulatory and Licensing Officer at the OPAL multi-purpose reactor, Dr Joanne Lackenby (Jo) has deep proficiency in nuclear safety. Her proficiency in nuclear safety has been acknowledged internationally through her participation in a number of International Atomic Energy Agency technical meetings and workshops focusing on reactor safety. She also holds broad experience in nuclear science and technology, spanning licensing, regulation, nuclear safety, change management, security, nuclear transportation and environmental management. 

Jo is also the President of Women in Nuclear (WiN) Australia Inc. and holds the WiN Global Oceania Executive position. This global not-for-profit has over 30,000 members and is committed to promoting the understanding and public awareness of the benefits of nuclear and radiation applications. She is a strong supporter of gender equity in STEM and uses her position as the WiN Australia President to communicate nuclear technology to the community and encourage diversity in the nuclear workforce. She holds a Bachelor of Environmental Engineering and a PhD in Geotechnical Engineering, both from the University of Wollongong. 

Additional Links: 

https://www.nuclearaustralia.org.au/dr-joanne-lackenby-is-president-of-ana/ 

https://careerswithstem.com.au/keeping-science-inclusive/ 

https://issuu.com/refractionmedia/docs/cwstem_science_2020_issuu 
Dr Renata Lippi - Synchrotron beamline scientist

Dr Renata Lippi as a new beamline scientist joining the Advanced Diffraction and Scattering (ADS) beamlines' team.  She is a Chemical engineer with a PhD in materials science. Prior to joining ANSTO, Renata was a postdoctoral fellow and project leader at CSIRO Energy involved in a range of catalyst research programs associated with CO2 and H2 utilisation and NH3 synthesis using metal membrane reactors.  Renata has expertise in high throughput catalyst systems and was a regular user at the Powder Diffraction beamline performing in situ experiments.
Amy Macintosh - Environmental scientist

Amy is a zoologist and environmental scientist. In her Honours in Tasmania, my admirations for ecological toxicology emerged when she studied legacy mine contamination and the likely impacts on cuddly bare-nosed wombats. 

Amy's research centres on the development of an ecology and environmental framework for decommissioning offshore oil and gas structures to better protect and conserve Australian marine life and the ocean.  

Successful decommissioning of subsea oil and gas infrastructure requires an effective and safe approach of assessing and managing chemical and radiological residues. Despite the environmental relevance of marine fauna and their ongoing exposure to radionuclides through anthropogenic contaminants, there is an absence of knowledge on the bioavailability and accumulation of radium isotopes from NORM waste to marine organisms. Her research will seek to conduct controlled laboratory bioaccumulation exposures to a range of Australian marine fauna, including fish, crustacea, echinoderms and worms. It is crucial to understand the specific bioaccumulation potential of scale associated contaminants to Australian marine biota to determine whether any risk is associated with such exposure to these contaminants.  

Amy was honoured to be the first female recipient of the ANSTO FutureNow Scholars, as a new member of the Graduate Institute. She is currently collaborating and consulting with her oil and gas industry partner to communicate environmental sciences and the importance of understanding contamination at the closure stage of oil and gas operations. Amy has competed in past hackathons; NASA Space Apps COVID-19 Challenge (global finalist) and recently won first place in the Australian and New Zealand Defence Force Trans-Tasman Hackathon. 

Additional Links: 

https://www.ansto.gov.au/news/graduate-profile-amy-macintosh  
Dr Madhura Manohar - Accelerator scientist

​Dr Madhura Manohar is an Accelerator Scientist at ANSTO's Centre for Accelerator Science. Madhura uses particle accelerators to analyse samples related to air pollution, seafood provenance, a material modification for the next generation of solar cells and many other areas of research.

Madhura completed her PhD in Medicinal Chemistry at the University of Sydney in 2016. During her time at university, she gained experience in various areas of chemistry including organic, inorganic and physical chemistry. She started working at ANSTO in 2016 as a Synthetic Organic Chemist in the National Deuteration Facility (NDF) before becoming an Accelerator Scientist in 2018. 

 "My job involves using a particle accelerator to assess samples for research areas such as air pollution, energy storage, archaeology, zoology and any other disciplines impacting health, environment and innovation," says Madhura.

"I love that the scope of my research is continually broadening. I learn something new everyday!"

Madhura is researching air pollution using ion beam analysis techniques on ANSTO's 2MV STAR accelerator. Air pollution is made up of very fine particles, many times smaller than the diameter of a human hair. While the human eye cannot see these particles, high concentrations of them appear as visible atmospheric haze, or smog. These fine particles can be easily transported over long distances across international borders and around the globe.

It is a complex mix of solid and liquid particles suspended in the air that is released into the atmosphere when coal, petrol, diesel fuels, and wood are burned. Bushfires, such as those experienced in eastern Australia last summer, also contribute to fine particle pollution by producing black carbon.

Air pollution is a major health problem. Worldwide, an estimated 3 million people die every year because of its effects on health and it is the fifth leading cause of deaths. Particles, like black carbon from combustion sources, in particular, have detrimental effects on health including cardiovascular problems, cancer, stroke and premature death.  As the human nose and throat are inefficient at filtering them out they can penetrate deep into the lungs and even the bloodstream.

Air pollution affects not just our health but also our climate. Fine particles can influence climate change on a global scale through absorption and scattering of solar radiation.

Monitoring air pollutants is crucial for identifying the causes, sources, and identifying approaches to mitigate exposure. Madhura and ANSTO continue to measure and characterise fine particle air pollution from key sites around Australia and internationally.  
Dr Lidia Matesic - Radiochemist

 

Lidia completed a PhD in organic and medicinal chemistry at the University of Wollongong in 2011. During her research career at ANSTO, she has focussed on the development of radiopharmaceuticals for cancer and neurological disorders. In 2012 she was awarded an Early Career Fellowship to work at Centre Cyceron (Caen, France) on the development of new PET imaging agents to diagnose stroke. 

Lidia is involved in the development of new radiotracers and radiopharmaceuticals at ANSTO. She specialises in the radiolabelling of small molecules, peptides and macromolecules with radiohalogens, particularly fluorine-18, for preclinical evaluation. Lidia works on commercial and academic radiochemistry projects and regularly collaborates with universities through the supervision of postgraduate students. 

Lidia's research interests include developing faster, more efficient methods of radiolabelling molecules and the development of novel 18F-prosthetic groups for incorporation into radiotracers. 

Additional Links: 
Dr Helen Maynard-Casely

 

Helen Maynard-Casely is a Senior Instrument Scientist at the Australian Centre for Neutron Scattering, ANSTO, and her research interest centre about the structures of materials relevant to the dwarf planets of our solar system.  Her journey to exploring these icy worlds began with her degree in Planetary Sciences from University College London, and was followed by her PhD in high-pressure physics undertaken at the University of Edinburgh.  Moving to Australia first to a post-doctoral position at the Australian Synchrotron, she moved to the Australian Centre for Neutron Scattering in 2013 to work on the High Intensity Diffractometer (known as Wombat).  

When not working on Wombat, Helen also enjoys promoting crystallography and science to as wide an audience as possible, for example she coordinated the 2014 Crystallography365 project, was the 2019 Australian Institute of Physics 'Women in Physics' Lecturer and published her first children's book (I heart Pluto) in 2020. 

Additional Links: 
Prof. Vanessa Peterson - Neutron scattering instrument scientist

 

Professor Vanessa Peterson is a Principal Research and Neutron Scattering Instrument Scientist at ANSTO's Australian Centre for Neutron Scattering. As the Leader of the Energy Materials Research Project, Vanessa uses the Wombat and Echidna neutron scattering instruments to research alternative energy systems and materials and has been working on lithium-ion batteries and fuel cells at the atomic scale. 

Vanessa started her career with a PhD at the University of Technology Sydney in 2004, studying the chemistry of cement and its atomic-level structures. It was during this time that she discovered the benefits of using neutrons to study powders at the atomic scale.

Her work on improving cement led to her interest in carbon-free energy materials. Following her PhD, Vanessa moved to a neutron scattering facility in the US, the US National Institute of Standards and Technology (NIST) Centre for Neutron Research, where she worked on hydrogen materials for a couple of years before returning to Australia and the University of Sydney. She moved to ANSTO in 2007 as our new neutron scattering facility was being developed alongside the OPAL reactor.

Alternative energy sources and new materials technologies have risen as demand for cheap, safe and environmentally sustainable energy increases.  Vanessa is currently researching materials used in batteries that power laptop computers and phones, and fuel cells that store and use hydrogen to power cars as an alternative to petrol.  Neutron-scattering tools are extremely well suited for these studies.

"Creating a global energy system that is both environmentally and economically sustainable is unquestionably one of the largest challenges facing the scientific and engineering communities," says Vanessa.

Fossil fuels have many problems but unlike most renewable energy sources, they are portable.  Vanessa is using neutron powder diffraction to study materials that store, transport and deliver energy such as batteries. One of the most common types of rechargeable battery is the lithium-ion battery, found in mobile phones and laptops. Improving lithium ion batteries will increase their storage capacity and their uses, including in electric vehicles by increasing their range, or for space or military applications. Vanessa is also investigating other types of batteries such as sodium and potassium ion batteries, which offer cheaper alternatives to lithium.

Vanessa also studies the use of hydrogen as clean energy to power transport. The benefit of hydrogen is that it releases only water as a waste product, but safely storing hydrogen has been a stumbling block that has slowed the uptake of hydrogen-powered technologies. Using neutron scattering to find out exactly how various materials absorb and release hydrogen is crucial for improving the effectiveness of hydrogen fuel cells for energy storage. This research will lead the way for efficient and portable hydrogen energy fuel cells for cars and other transport.
Dr Mitra Safavi-Naeini - Particle physicist

 

Dr Mitra Safavi-Naeini is a Senior Physicist and Research Lead in Human Health at ANSTO. Mitra is a prolific researcher in the field of particle physics and medical radiation physics. Her two main research areas are: radiotherapy (proton and heavy ion therapy, brachytherapy, photon therapy) - particularly in relation to treatment methods for cancers with poor prognoses - and medical imaging quantification (with a specific focus on positron emission tomography). 

Mitra is one of the co-inventors of neutron capture enhanced particle therapy (NCEPT). She has brought together a multi-disciplinary team of expert scientists with the best skills and expertise and has presented NCEPT to several clinical and industry stakeholders and has successfully brought together a large group of international industry and academic partners to form a consortium around the NCEPT project and its translation. In addition to her scientific research, Mitra has also enjoyed competing in challenging technical hackathons, leading three teams to wins in Australian international competitions in 2020: U-space in ACS "Flatten the curve", GaiaPOD team in ANZDF "Shockproof the supply chain" and "Elavo" team in NASA Space App Hackathon. 

She is the CEO and the CTO of GaiaPOD Pty Ltd, a start-up company that she has co-founded with 4 other team members to commercialise their award-winning technology. 
Dr Susi Seibt - Synchrotron instrument scientist

 

Dr Susi Seibt is one of the instrument scientists responsible for the operation and development of the SAXS/WAXS beamline at the Australian Synchrotron (ANSTO). She completed her PhD in Physical Chemistry / Nanoscience in 2018 as the first joint PhD between the University of Melbourne, Australia and the University of Bayreuth, Germany, working on in-situ studies of the nucleation and growth of nanoparticles as well as the self-assembly of asymmetric molecules. 

She then worked as a research fellow at the Royal Melbourne Institute of Technology (RMIT University), where she was part of a research project under the Australian Renewable Energy Agency (ARENA) into slurry electrodes, reversible hydrogen fuel cell technologies and electrochemical storage of hydrogen in porous carbon-based media, along with associated technology development. 

Her expertise is in the combination of scattering with microfluidics, nanomaterial synthesis, physical chemistry as well as materials science and characterisation.   

Additional Links: 

https://www.youtube.com/watch?v=LL6KSuehuc0 

https://www.goethe.de/ins/au/en/kul/sup/gas/21717755.html 
Bianca Shepherd - Engineer

Bianca Shepherd is ANSTO's Engineering Support Workshop Manager, confidently overseeing the manufacture and fabrication of equipment and specialised parts for critical Australian scientific and landmark infrastructure. 

In particular, Bianca oversees the manufacture of specialised parts for the OPAL multi-purpose reactor, which is required for the production of nuclear medicine that benefits half a million Australians each year. Bianca also enables the continued operation of infrastructure relevant to important health, environment and nuclear fuel cycle research. 

Bianca began her career almost thirty years ago as an Electrical Engineering Cadet at BHP. During that time, she completed an Associate Diploma in Electrical Engineering whilst undertaking an electrical trade and working in the steel industry. 

Bianca remains grateful for her trade expertise and developing the next generation of young trade professionals in STEM has become her passion. She possesses strong education and training skills and has worked at the University of Ballarat to teach electrical modules to apprentices and tradespeople. Bianca is also a 2021 Superstar of STEM.
Dr Katie Sizeland - Chemical engineer

 

Dr Katie Sizeland is an Engineer researching one of nature's very own building blocks - collagen. Katie explores the nanostructure and physical properties of collagen in materials such as replacement heart valves, medical scaffolds for burns and wound repair, and leather. 

Katie is a Strategic Projects Leader in NSTLI at ANSTO. She is passionate about science, technology, engineering and mathematics (STEM) focused on innovative solutions to industry problems and ensuring that STEM can have a real impact, creating a better future for everyone and the world we live in. Katie is also passionate about science communication and outreach and inspiring the next generation in STEM.  

Katie holds a PhD in Engineering and a Bachelor of Chemical Engineering and Nanotechnology, both from Massey University, New Zealand. Katie is a 2019-2020 Science & Technology Australia Superstar of STEM and was selected for Homeward Bound, a global leadership program for women in STEMM. 

Additional Links: 

https://www.science.org.au/news-and-events/newsletters/emcr-pathways-newsletter/issue-22-november-2020/inspiring-emcrs-katie-sizeland  
Katrina Van De Ven - Government and international affairs advisor

Katrina is an experienced public and foreign policy professional with over nine years' experience in policy analysis, communications, and stakeholder engagement. Having honed her skills in state, federal and multilateral policy settings including the Australian Mission to the United Nations in New York, United States Congress and NSW Department of Premier and Cabinet, Katrina is currently employed as a Government and International Affairs Advisor at ANSTO.  

In addition to her professional roles, Katrina is an experienced not-for-profit leader. For the past five years she has served as Chief Operations Officer of Young Australians in International Affairs, a think tank committed to developing the next generation of Australian foreign policy leaders. She has previously served as a Board Member for Women in Nuclear (Australia) and as the NSW Director of the United Nations Association of Australia Young Professionals Network. 

Katrina holds a Master of Business Administration (MBA) from the University of Sydney Business School, in addition to a Master of International Relations and a Bachelor of Psychology (Honours) from Griffith University. She is also a graduate of the Australian Institute of Company Directors. 
Dr Jessica Veliscek-Carolan - Nuclear chemist

 

Jessica is a nuclear chemist and researcher at ANSTO. Jessica completed her B. Sc (Adv) (Hons I) majoring in chemistry at the University of Sydney in 2007 then joined ANSTO as part of their graduate program in 2008. This involved placements in diverse areas such as minerals processing and environmental research as well as some interesting tasks including collecting sewage and making 'worm pasta'. Jessica completed her PhD part-time at the University of Sydney between 2011 and 2016. Her PhD topic was on the development of new materials that can be used to treat nuclear waste by selectively removing long-lived or radiotoxic elements. Jessica continues to work in this research area, combining inorganic and organic chemistry to develop new materials with practical applications.  

Jessica has published 14 peer-reviewed papers in scientific journals and contributed to several commercial projects. She has also had many opportunities to travel for work. She was awarded the United Uranium Scholarship in 2011, which enabled her to travel and work at CNEA Argentina for three months. She has also received funding to present at conferences in Australia, France and Mexico, to attend the 2014 Cheiron School at the Spring-8 synchrotron in Japan and to attend the 2016 HOPE Meeting with Nobel Laureates in Tsukuba, Japan. 

Additional Links: 

https://www.bluemountainsgazette.com.au/story/7015795/science-at-the-local-keeps-nuclear-option-on-the-table/ 

https://www.science.org.au/news-and-events/newsletters/emcr-pathways-newsletter/emcr-pathways-issue-8/getting-know%E2%80%A6-jessica