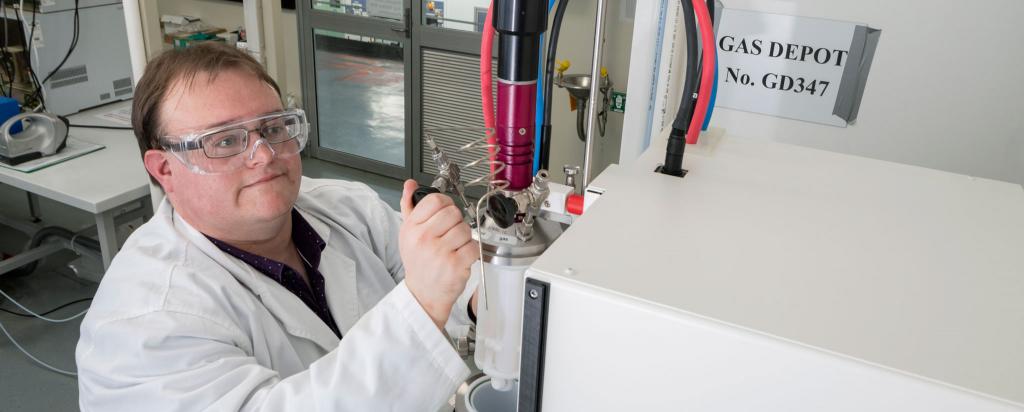 The National Deuteration Facility offers the facilities, staff and expertise to produce molecules where all or part of the the molecular hydrogen is in the form of deuterium (2H or D).
The facility produces deuterated proteins, biopolymers, nucleic acids and synthesises small organic molecules  such as lipids, phospholipids, sugars, surfactants, aliphatic hydrocarbons and aromatic, heterocyclic compounds. Double and triple labelling of proteins with both deuterium and the stable isotopes carbon-13 and/or nitrogen-15, are also available. 
The facility offers molecular deuteration using either in vivo biodeuteration or chemical deuteration techniques. 
Classes of deuterated molecules available
Saturated fatty acids, alcohols, bromides, amines,
aldehydes, thiols, alkanes 
Partial and perdeuterated recombinant proteins
Saturated diacids and bifunctional surface active
molecules
Double and triple labelled recombinant proteins
Deuterated silanes
Unsaturated fatty acids (e.g. oleic acid)
Membrane protein detergents (e.g. DDM and OG)
Glyme and glycol ethers
Deuterated surfactants including ionic and non-ionic

Lipids including glycerides; phospholipids (e.g. DOPC and POPC);
and selective deuteration of lipids (head deuterated, tail deuterated
and fully deuterated)

Aromatics and heterocyclics for MOFs
Compounds for organic light emitting diodes
Compounds for solar cells 
Electrolytes for batteries
Selective deuteration of small molecules
Sugars
Biopolymers – cellulose, chitosan, chitin, PHAs
 DNA
Please consult our detailed catalogue for further information. 
Acknowledgements
The National Deuteration Facility is partly supported by the National Collaborative Research Infrastructure Strategy – an initiative of the Australian Government.
Enabled by