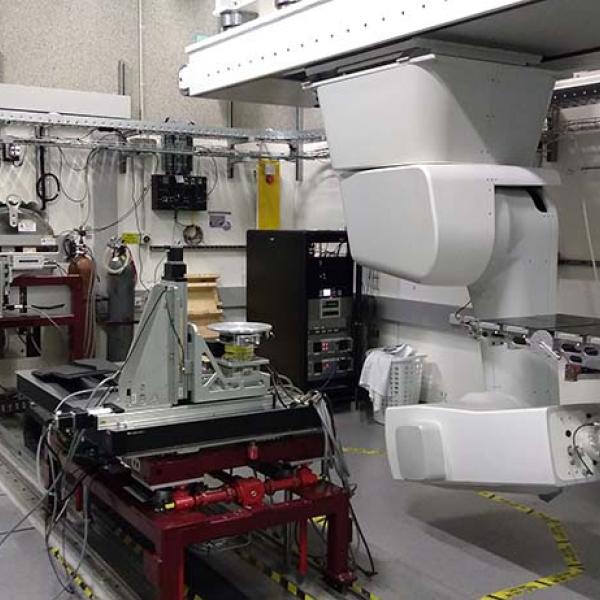 This program is examining the mechanism and outcome of the interaction of radiation on biological systems in order to improve our understanding of the impact of radiation on the brain, optimise radiotherapy and develop mitigation strategies for space travellers.
Areas of focus
Neurobiological Effects of Radiation

Improving clinical responses to radiotherapy

Space research
Neurobiological Effects of Radiation
Low-dose radiation and neuroinflammation
Previous research has suggested there could be protective, adaptive and reparative mechanisms associated with low-dose radiation. New work will be undertaken to understand radiation effects during periods of vulnerability, for instance, brain development or instances of neurological disease (i.e. neuroinflammation). 
Radiation impact on brain cerebrospinal fluid flow
A  perivascular network in the brain appears to be a key mechanism for the control of cerebrospinal fluid flow within it. Using anatomical, physiological and laboratory models,  the network will be studied to assess how radiation impacts dynamic size changes in the brain extracellular space and the key vasculature. 
Improving clinical responses to radiotherapy
MRT and the treatment of glioma
Building on knowledge of the neurobiological responses to radiation, human health researchers will evaluate the potential of microbeam radiation therapy (MRT) at the Imaging and Medical Beamline at the Australian Synchrotron to treat glioblastoma. 
iNCEPT - simultaneous tumour targeting and localised micro-environment modulation
Initial proof of concept experiments will examine the ability to adapt Neutron Capture Enhanced Particle Therapy (NCEPT - Program 2) to target immunosuppressive or proto tumour cells at the single-cell level both within and outside of the primary radiation beam. 
Head and neck cancer, radiotherapy and the oral microbiome
In collaboration with St George Hospital and the Microbiome Research Centre, human health researchers will examine the role that the oral microbiome plays in the response to radiotherapy and disease progression in head and neck cancer with a focus on late-term effects. 
Space Health
Mitigation of space radiation
In partnership with the National Centre for Space Studies/French National Institute of Health and Medical Research (CNES/INSERM) and using the enclosed in-air beamline modification of ANTARES at the Centre for Accelerator Science (CAS), human health researchers will determine the biological effects of low energy metallic ions, which are encountered by astronauts as a consequence of cosmic protons interacting with metallic shielding. 
Radiation and Microgravity
Two of the major stressors found in space are radiation and microgravity. In a collaboration with UTS, ANSTO will assess the combined effects on 3D bio-printed multi-cellular soft tissue structures that mimic the heart. Cardiovascular disease is a major risk factor for astronauts and the number one cause of death on earth.