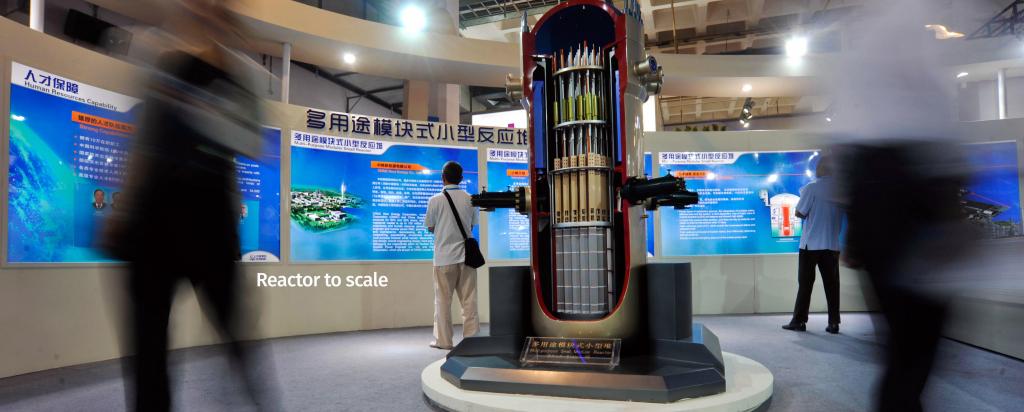 Published on the 1st March 2021 by ANSTO Staff
A key aspect of ANSTO's legislated mandate is to inform Australians on the facts and significant developments relating to nuclear science and technology, including emerging small modular reactor (SMR) designs.
Small modular reactors, or SMRs, refers to a class of modern reactors that are essentially "small", and each unit can be manufactured in a factory. Typical designs have power levels between 10 and 300 MWe. They are "modular" in the sense that each unit can be assembled next to another and scaled up or down to meet the local electricity needs. SMRs have advantages in safety, design, waste and fuel management, and environmental footprint, among other features.
In this regard, there were many significant developments in North America, the United Kingdom, and elsewhere in the world relating to SMR technologies in the latter half of 2020. 
Some of these developments have been highlighted below.
United States
The most significant development was the announcement by the United States Department of Energy (DOE) that the US Government would partially fund the development of two next-generation small modular reactor demonstration models through the provision of US$160 million under the country's new Advanced Reactor Demonstration Program.
As reported on the energy.gov website, the DOE is awarding TerraPower LLC and X-energy US$80 million each initially to build two advanced nuclear reactors in cost-shared partnerships with industry, with the expectation that the reactors will be operational within seven years.   
TerraPower will use the funds to develop the Natrium™ reactor, a sodium cooled fast reactor, in partnership with GE Hitachi.
X-energy will deliver a commercial four-unit nuclear power plant based on its Xe-100 reactor design, which encompasses a high-temperature gas-cooled reactor and an advanced fuel fabrication facility.
According to the DOE, both projects incorporate a range of design features that not only will enhance safety, but also will make them affordable to construct and operate—paving the way for the US to deploy highly competitive advanced reactors domestically and globally. The full cost of the project is expected to be over US$3 billion.
The DOE  is also planning to build the Versatile Test Reactor, a sodium fast reactor design, to provide the high-energy and high-flux neutrons necessary for the development of materials for use in advanced power reactors. The project to build the test reactor by 2026 is being led by the Idaho National Laboratory in partnership with five other national laboratories.
In addition, in early November 2020, NuScale Power  announced that its SMR design had been 'uprated' to 77 MWe; an increase of 25% from the earlier forecast power output of 60 MWe, which the company says will lead to significant cost savings. NuScale also announced options for smaller four-module and six-module plant sizes, in addition to its flagship 12-module plant.
Beyond its power generation application, NuScale also released the results of a new evaluation that indicates that a single NuScale Power Module (NPM) could economically produce almost 50 tonnes of hydrogen fuel per day. The study, originally conducted by the Idaho National Laboratory, says that the improved power output of the NPM allows it to produce 20 percent more hydrogen from water than had been previously reported.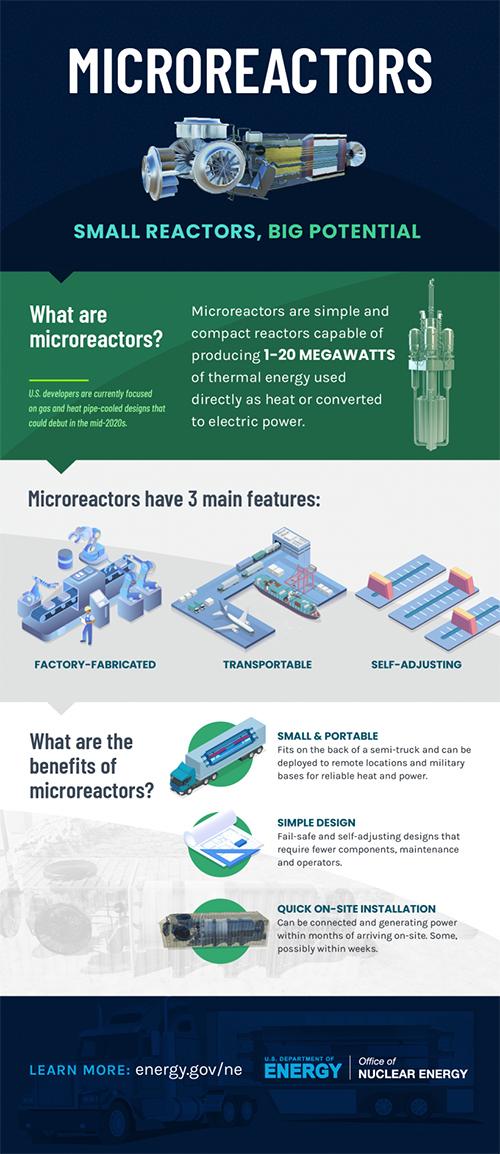 Canada
Canada has recently released a Small Modular Reactor Action Plan that builds on its 2018 Small Modular Reactor Roadmap. The Plan, which involves more than 100 partners, outlines the development, demonstration, and deployment of SMRs for multiple applications at home and abroad.
Canadian Nuclear Laboratories (CNL), ANSTO's counterpart institution, has identified SMRs as one of eight strategic initiatives it is pursuing as part of its long-term strategy, with the goal of siting an SMR by 2026. At present, four proponents are engaged in the four-stage invitation process, which was launched in 2018, to evaluate the construction and operation of a demonstration SMR at a CNL site.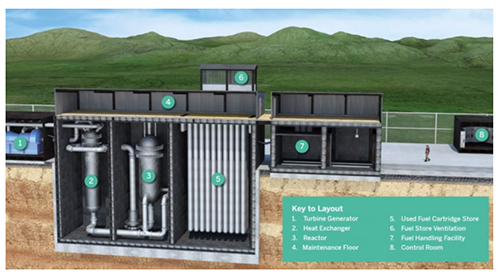 U-Battery Canada Ltd has a design for a 4MWe high-temperature gas reactor. StarCore Nuclear is overseeing a proposed 14 MWe high-temperature gas reactor, and Terrestrial Energy is developing a 190 MWe integral molten salt reactor. These three projects have completed the first stage of the process.
Ultra Safe Nuclear Corporation (USNC) and Ontario Power Generation (OPG) intend to build, own, and operate a proposed Micro Modular Reactor (MMR). The MMR is a 15 MW thermal, 5 MW electrical high-temperature gas reactor. This project is in the third stage of CNL's process to site a demonstration SMR at it Chalk River site and is currently undergoing an environmental assessment.
Separately, in October 2020, OPG announced plans to pave the way for the deployment of SMRs by advancing engineering and design work with three developers of grid-scale SMRs: GE Hitachi (GEH), Terrestrial Energy, and X-energy. At the same time, GEH has entered into MoUs with five Canadian companies to set up a supply chain for its SMR design.
The United Kingdom
On the other side of the Atlantic, the UK is continuing an investment of about £460 million, which commenced in 2016 and will go through to this year (2021), to develop next generation advanced nuclear reactor technologies.
About £7 million of funding is for regulators to build the capability and capacity needed to assess and license small and novel reactor designs.
Up to £44 million has been allocated to the Advanced Modular Reactor (AMR) Feasibility and Development (F&D) project, a two-stage advanced modular reactor program administered by Innovate UK.
In November 2020, the UK Government announced an investment of £215 million into SMRs to accelerate a Rolls Royce concept design. Read more
A co-invested low cost nuclear ( LCN) program aims to see the commercial deployment of a fleet of SMRs by the 2030s.
Rolls Royce is heading a consortium of UK nuclear companies to deploy 440 MWe light water reactor-based SMRs. The design, a patented modular concept for a reactor, is in the early stages.
The company signed a Memorandum of Understanding with US utility Exelon Generation to pursue the potential for Exelon to operate its SMRs in the UK and internationally.
South Korea
South Korea has made progress on its 100 MWt System Integrated Modular Advanced Reactor (SMART), which is being developed by the Korean Atomic Energy Research Institute, another ANSTO counterpart institution and collaborator. Smart Power successfully submitted an SMR Licensing Advisory Report in July 2020.
Australia
And back home, in September 2020, the Australian Government listed SMRs as a 'watching brief' item in its First Australian Technology Investment Statement.
The Statement refers to prospective technologies with transformative potential, perhaps where developments are currently driven primarily overseas. International developments in SMRs will be closely monitored and supporting infrastructure and other needs assessed. Read more
Explore some of our reports on developments relating to small modular reactors and next-generation reactor designs.