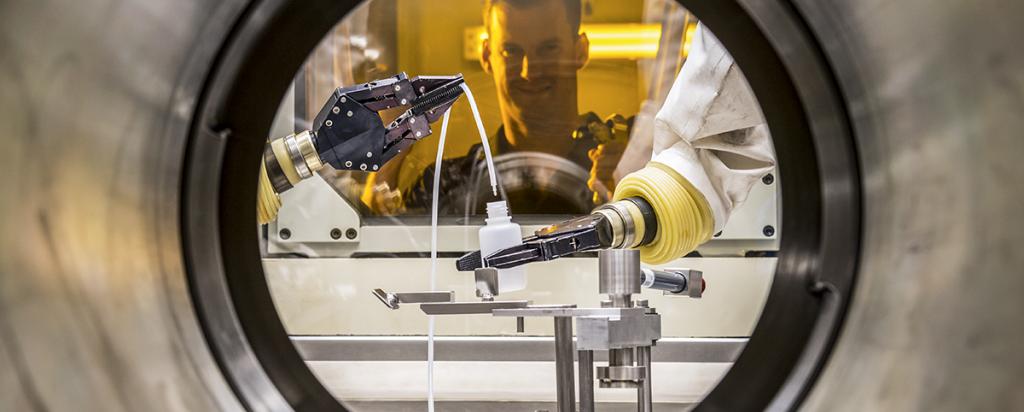 Radiopharmaceuticals
ANSTO manufactures a range of radiopharmaceuticals that can be used as diagnostic and therapeutic agents. Labelled with radionuclides, these nuclear medicines can help medical practitioners to make an accurate diagnosis of an illness or to therapeutically treat diseased organs or tumours.
One such radiopharmaceutical is technetium-99 (tc-99m), the most widely-used radioisotope in nuclear medicine which decays from its parent radioisotope, molybdenum-99 (mo-99). Mo-99 is produced in the OPAL reactor and delivered to practitioners within ANSTO manufactured shielded Gentech® Generators.
For more information on radioisotopes and medical uses visit: What are radioisotopes? 
ANSTO also produces a range of radiochemicals to support research, industry and the manufacture of radiopharmaceuticals.
Production
ANSTO can deliver over 10,000 patient doses of nuclear medicines to more than 250 Australian and New Zealand hospitals and medical centres every week. On average, one in two Australians will benefit from nuclear medicine in their lifetime.
Licensed facilities: Ensuring adherence to strict quality assurance and control programs, all of our nuclear medicine products are manufactured in Good Manufacturing Practice (GMP) licensed 'clean rooms' and our facilities are licensed via the Therapeutic Goods Administration (TGA).
Day in the life of Nuclear Medicine
Video tour: Go behind the scenes as nuclear medicine makes its way from the OPAL reactor to medical centres around Australia.
Mo-99 Manufacturing Facility
Ask us a question
If you would like to place a product order or have any further questions please contact the Health team.