Accelerator-based ion beam analysis (IBA) techniques and capabilities can be applied across a range of investigations.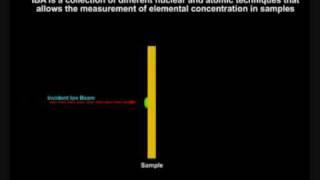 Some recent research includes monitoring ambient air pollution at sites across Australia and Asia known as the aerosol sampling program (ASP), determining heavy metal pollutants in biological systems, studying the composition of archaeological artifacts and soil specimens, analysing thin films for photovoltaic (solar cell) applications, and probing materials engineering problems such as corrosion and coating delamination.
Techniques
Click on the technique for more information 
Technique
Applications
Elements
Sensitivity
Depth resolution
Analysis depth
RBS
Surface and thin film composition
and thickness.
Li - U
Best for heavy elements
on light element substrate
(eg Cu on Si) typical 10%
(Li) - 0.001% (U)
5-20 nm
Up to 1 mm
PIXE
Trace element composition of
particulates and bulk materials.
Si-U
Opimum near Fe (1ppm)
elemental sensitivities
range from 1 - 100ppm
 
Typical proton range
20- 50 microns    
Up to 1 mm
PIGE

Trace element composition of particulates
and bulk materials.

Li-Al

Element dependent, typically
< 1 ppm for F
< 40 ppm for Na
< 40 ppm for Al

 
up to 1 mm
NRA
Isotopic tracing and profiling in materials,
surfaces and interfaces.
H-Si
Element dependent, typically
in range 1 - 100 ppm
5-20 nm
up to 1 mm
PESA
Hydrogen in polymers, polymer interdiffusion,
hydrogen in solar cells.
H, D
> 0.1%
10-20 nm
up to 1 mm
ERDA & RToF
Elemental composition and structure of near
surface regions. thin films.
H-U
> 0.1 %    
10-20 nm
up to 1 mm
μERDA
Elemental mapping and depth profiling
in materials science.
 
>0.1 %
>50 nm
up to 20 μm
μPIXE
Trace element mapping in biological,
environmental and geological samples.
Si-U
> 100 ppm
up to 3 μm
 
IBIC
Charge collection mapping in electronic
devices and detectors.     
 
 
 
up to 1 μm
 

Particle Induced X-ray Emission (PIXE)

 

Rutherford Backscattering (RBS) 
 

Particle Induced Gamma Emission (PIGE)

 

Elastic Recoil Detection (ERD & RToF
Partners and collaborators
The IBA facilities are offered to 37 universities through AINSE and members of the group are involved in significant research projects that impact Australia and the wider global community. The IBA has partnerships with several environmental protection agencies, the Australian Coal Association, private industry, the CSIRO and International Atomic Energy Agency in Vienna (IAEA), among others.
Proposals
Australian and international researchers and industry can request access to IBA facilities through ANSTO's Research Portal for users. 
Please discuss your proposal with the appropriate ANSTO contact scientist before submitting a proposal as they will assist you in making the correct capability selection.